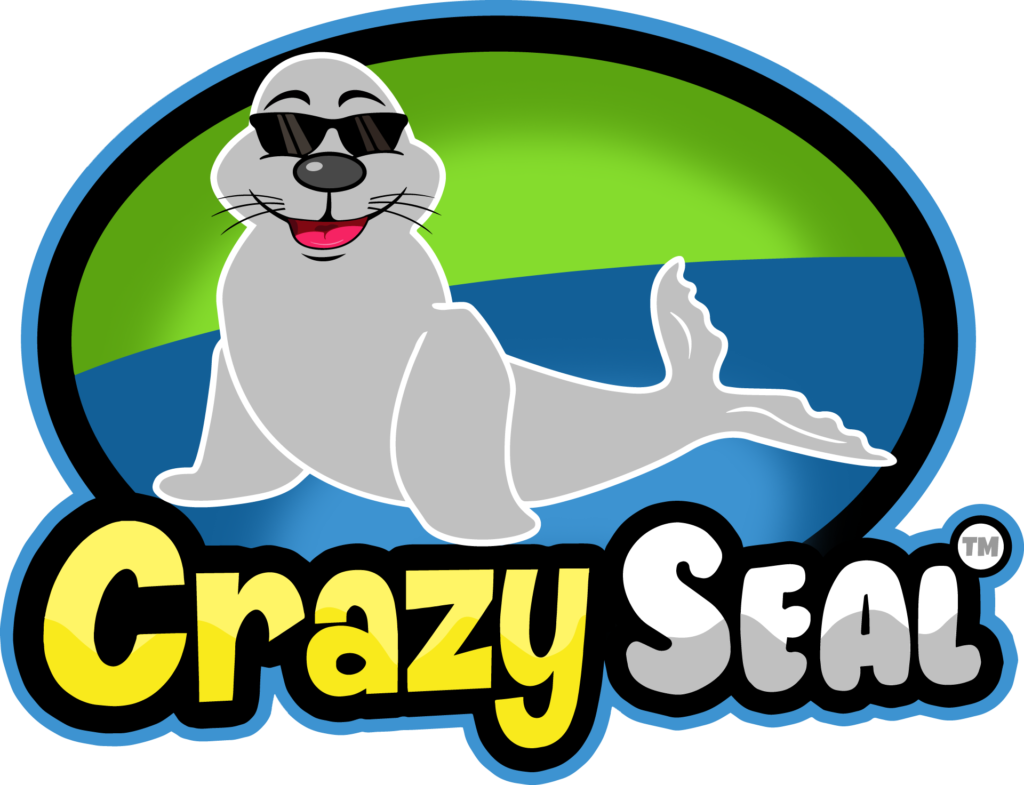 THE CRAZY SEAL ROOFING SYSTEM
One seamless system,
limitless applications.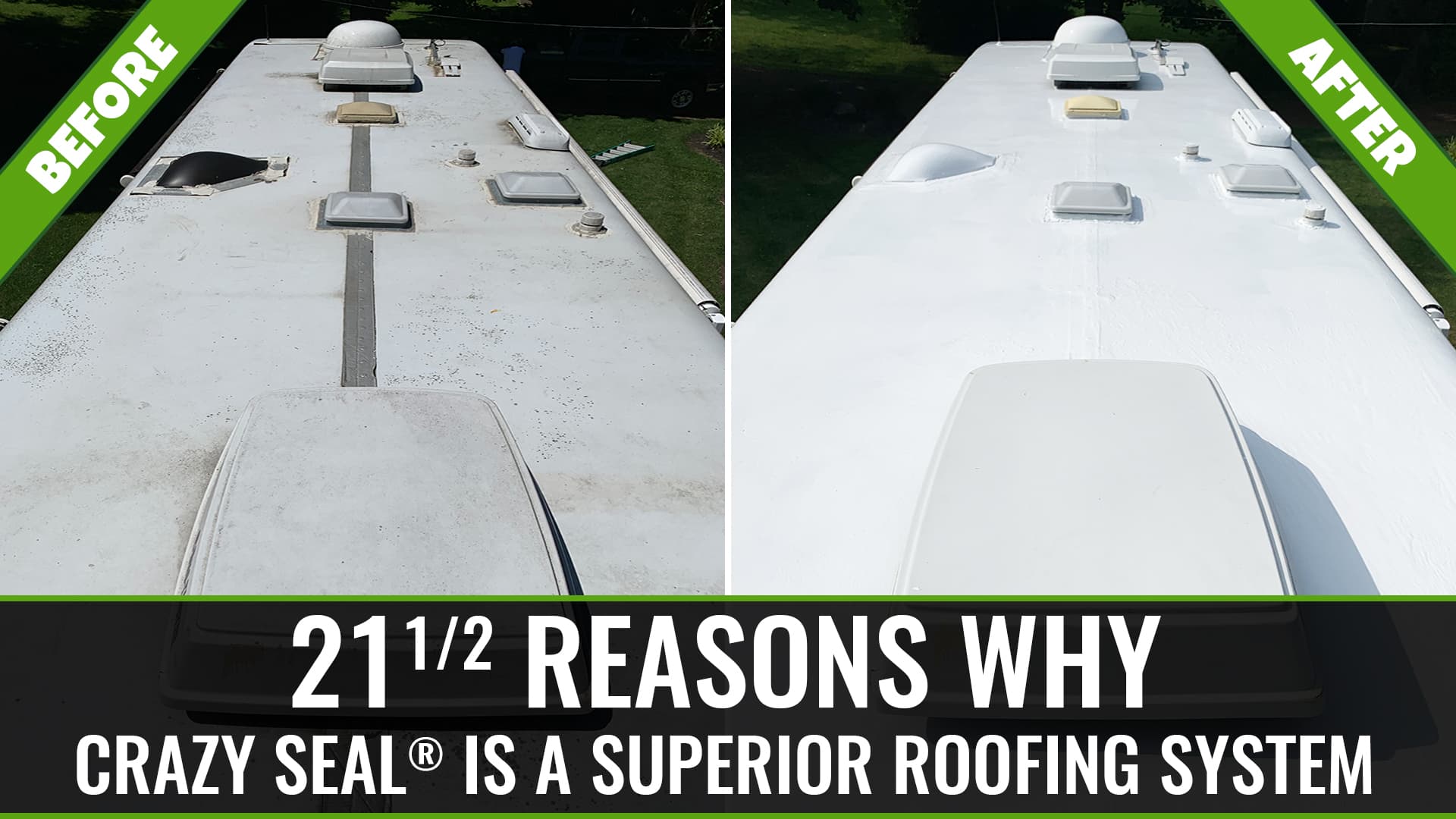 ↑ Watch This for a Full Overview ↑

Now through August 31st, use coupon code "GET10NOW" for 10% off your entire purchase.
With the price of nearly everything going up, we've decided to give you a break and bring our prices DOWN! Use Coupon Code "GET10NOW" for 10% off your entire purchase, plus get free shipping on orders over $500.
We manufacture seamless roofing kits and ship them directly to your door.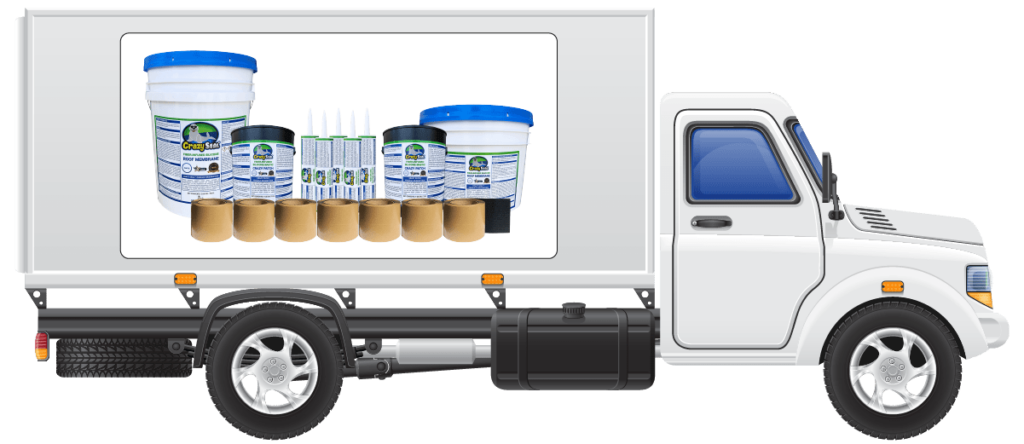 CHOOSE A SECTION THAT MATCHES YOUR APPLICATION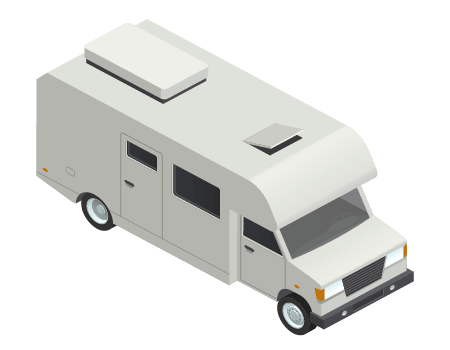 RV's, travel trailers, fifth wheels, motor coaches.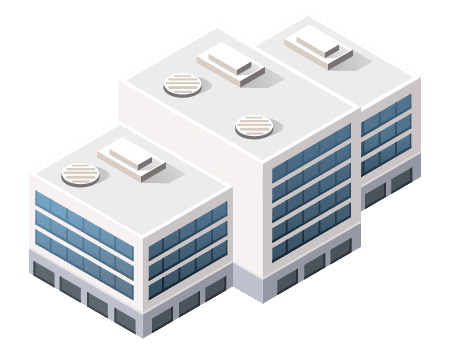 Facilities of all kinds with flat roofs are using Crazy Seal!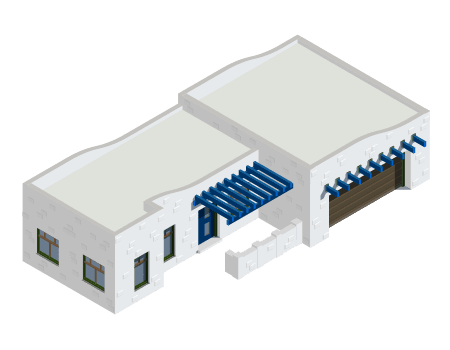 Flat residential, sunrooms, storage buildings.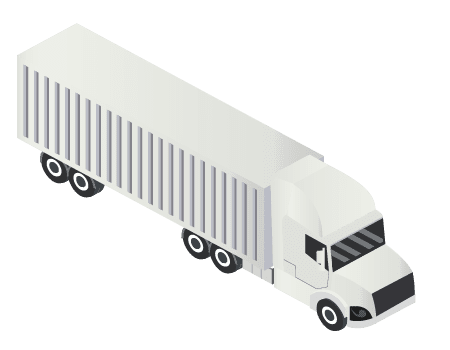 Tractor trailers, box trucks, delivery vehicles, fleets.
Are you a Professional? Let's talk about increasing your profits!
People are asking for a professionally installed Crazy Seal roofing system every single day! Due to this inquiry, We are intentionally growing a network of professionals capable of installing our seamless roofing system. If you are capable of installing our system professionally, we'd love to have a conversation about your business to see how we can work together to increase your profits.
STEP 1: Order your kit directly on this website.
Crazy Seal products are only available for purchase here on CrazySeal.com. Visit our
Ordering page
to see our prebuilt kits or use our
Build Your Own Kit
page to create a custom kit.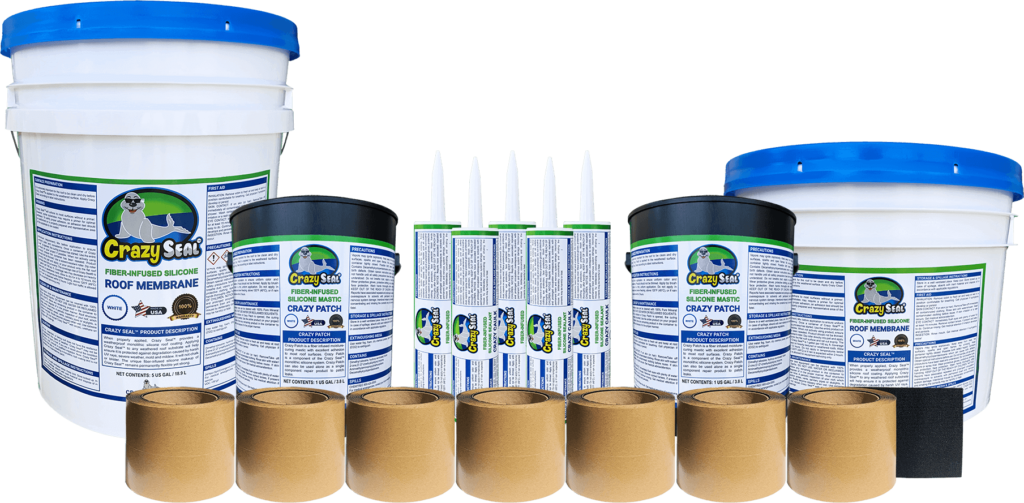 STEP 2: Your order is fulfilled directly from our manufacturing facility.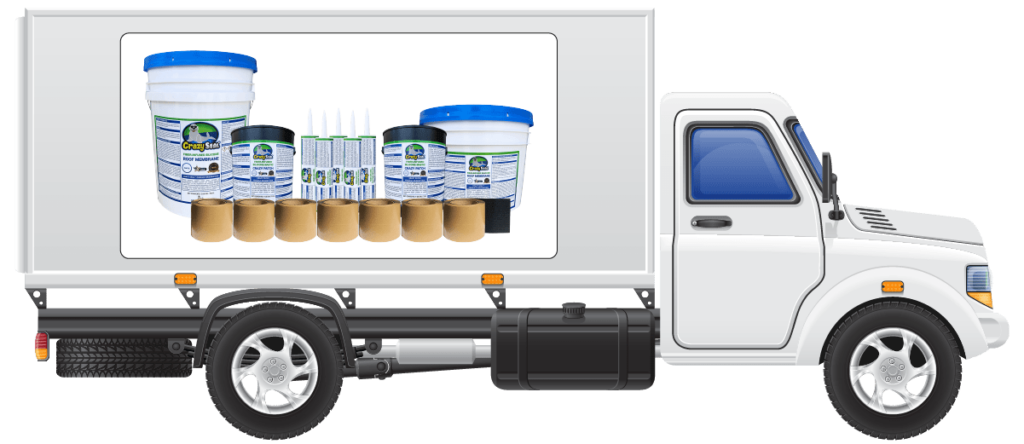 All orders are processed and shipped from our manufacturing facility in the the USA. Orders are shipped FedEx and generally arrive within 3-5 business days.
STEP 3: Install your system with detailed guidance from our installation page.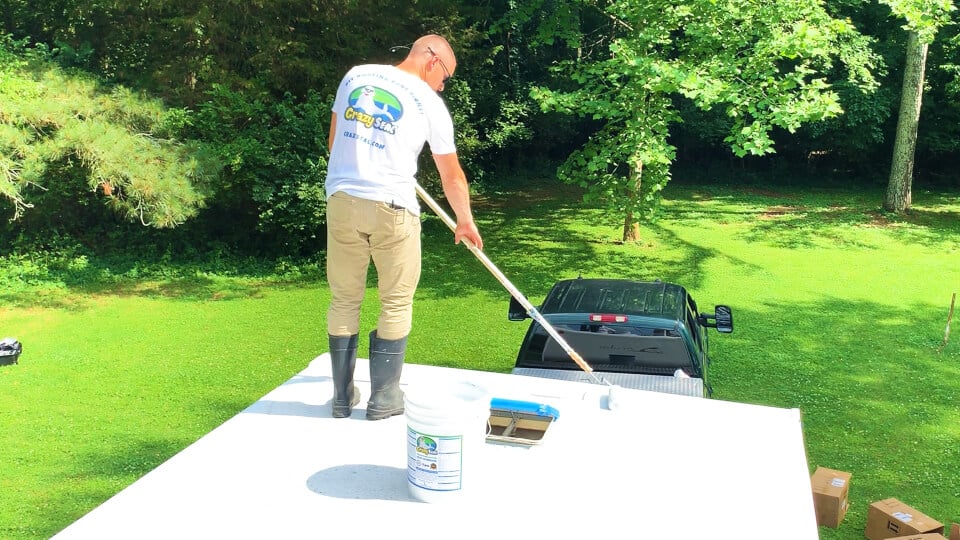 With your kit on the way, watch our installation videos and download pdf's to learn how to install your system.
Step 4: Fill out our warranty form for 50 years of hassle free coverage.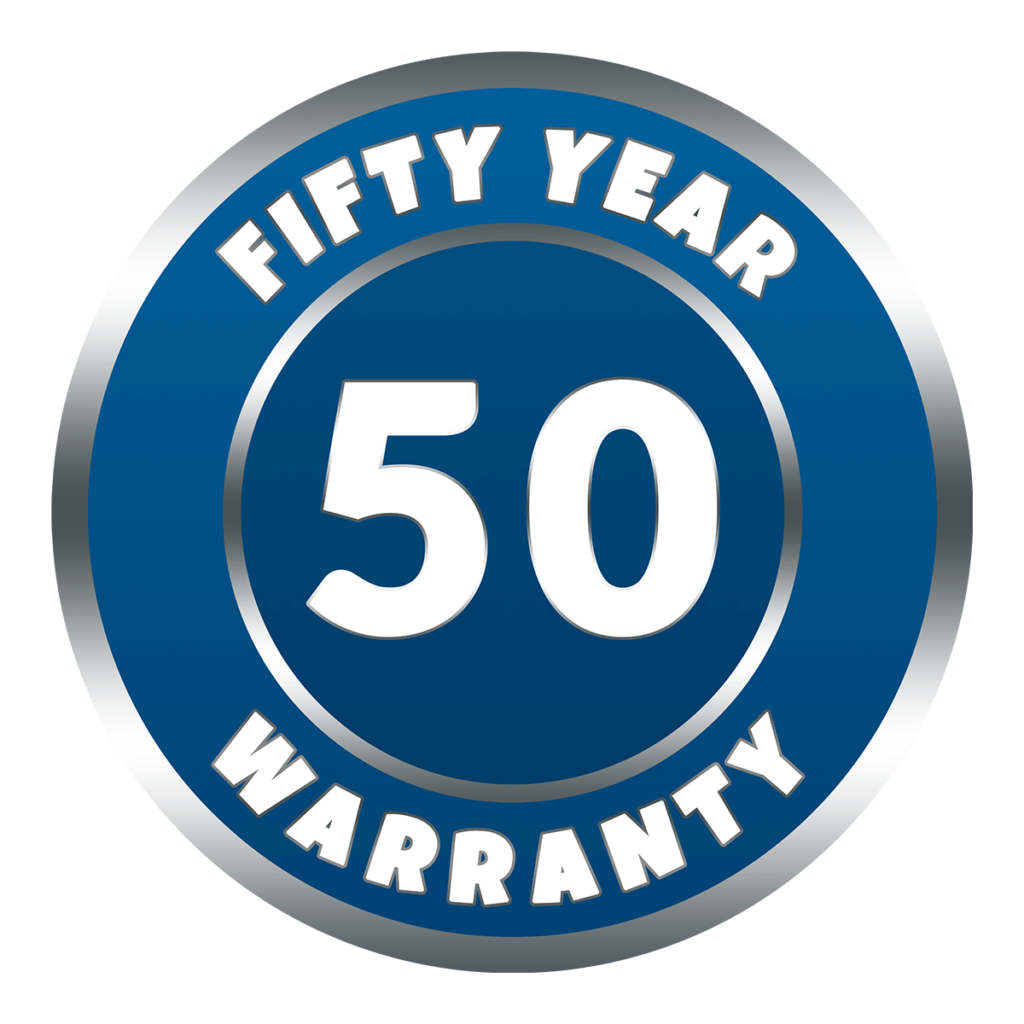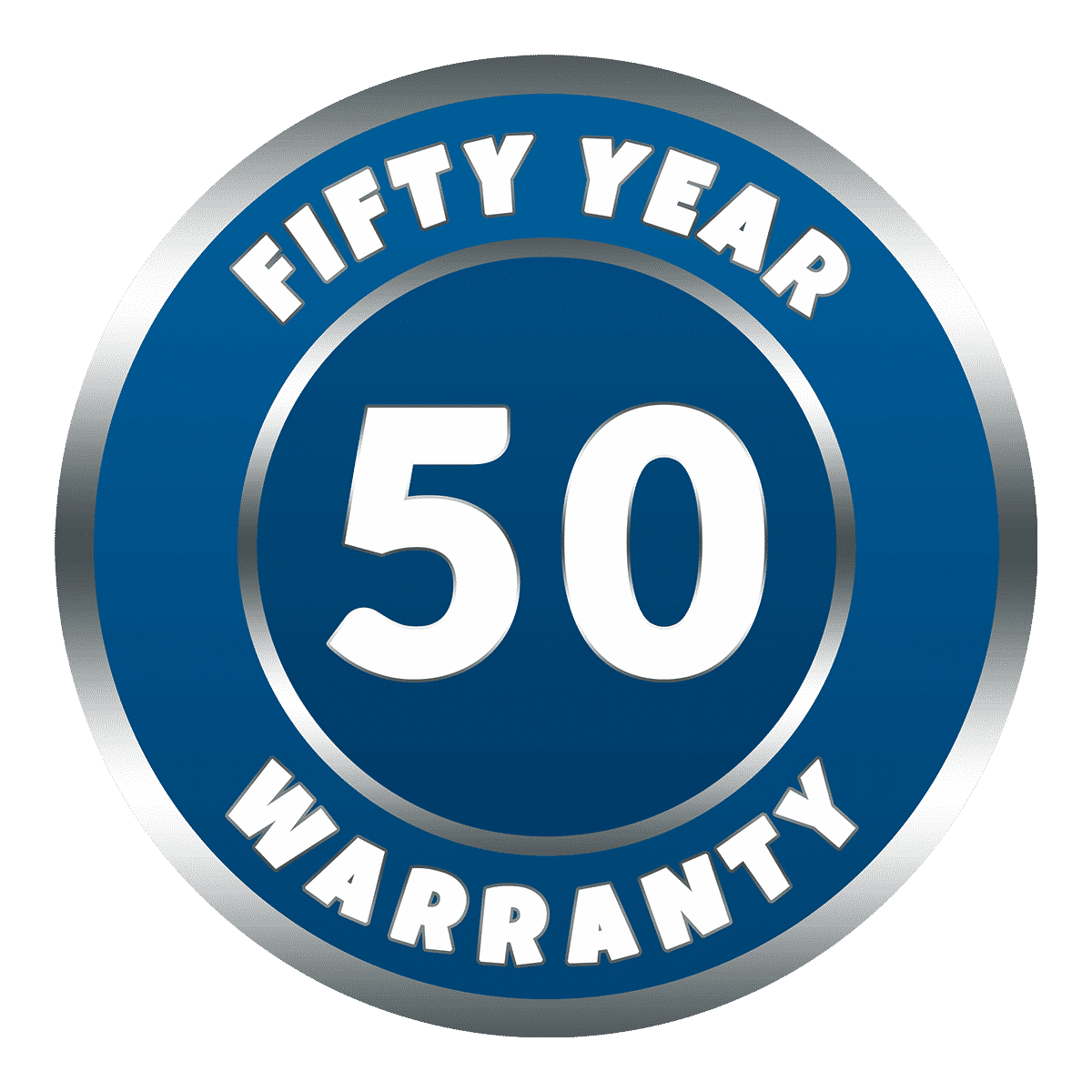 With your system installed, submit your photos on our warranty page to enjoy 50 years of hassle-free product warranty!
WANT A QUICK PRICE QUOTE?
CHOOSE A KIT TYPE BELOW TO GET STARTED

Our most popular kit with double layer protection.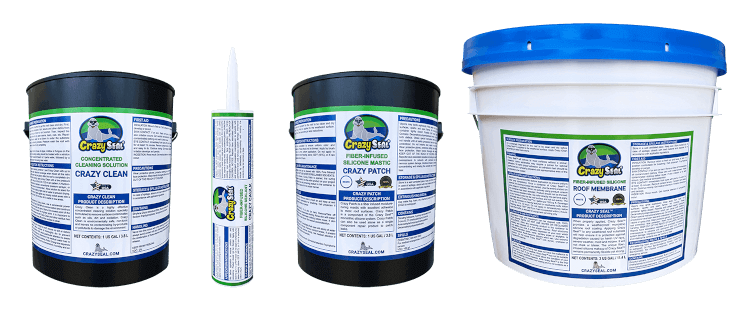 A budget-friendly option with single layer coverage.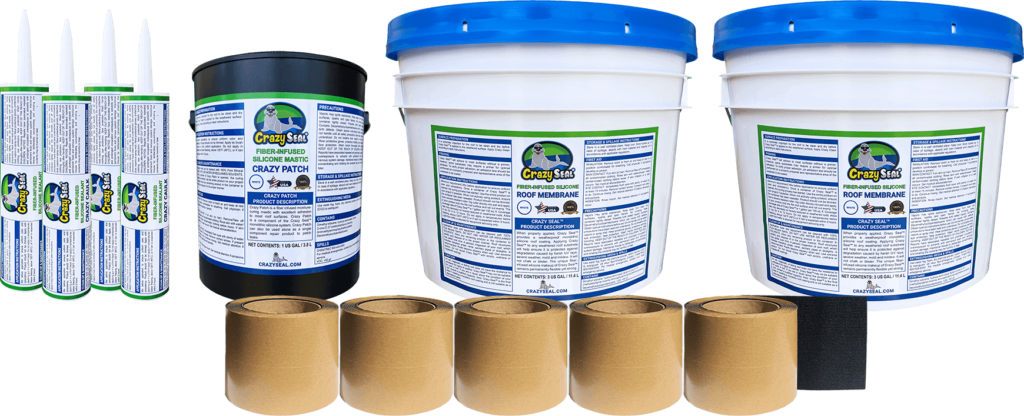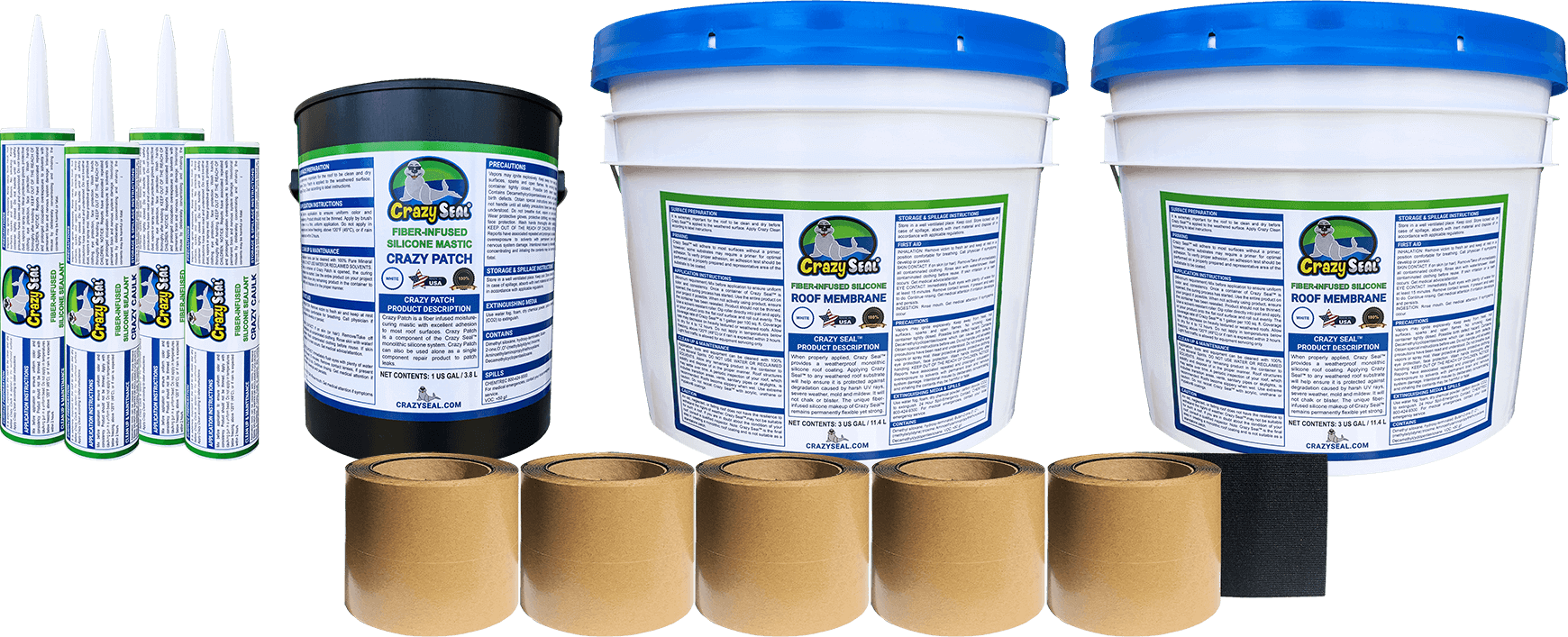 A special kit for sealing directly over wood decking.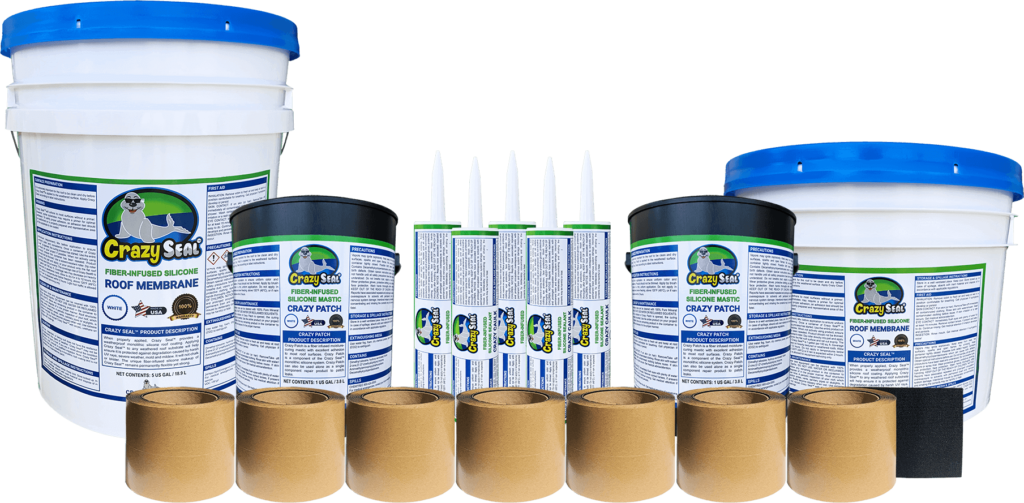 Build your own kit from our lineup of roofing products.
Call us! Want to discuss your project? Our specialists are available to assist by phone M-F 9AM-6PM EST.
THE CRAZY SEAL HYBRID ROOF SYSTEM
Crazy Seal's hybrid roof is the most advanced system ever developed! Originally developed for RV's, it had to be better for vehicles that were twisting, turning, starting, stopping, & screaming down the highway at 70 miles per hour in all types of environments.
Imagine taking roofing fabric and infusing it with the highest grade silicone money can buy. As each piece of the Crazy Seal System cures, fiber strands bond to each other in a complex interstitial network that delivers the strength of roofing fabric with the durability, flexibility, and longevity of silicone. The result is a seamless, fiber reinforced roofing membrane that is waterproof, highly reflective, scratch resistant, flexible, tough, and maintenance free.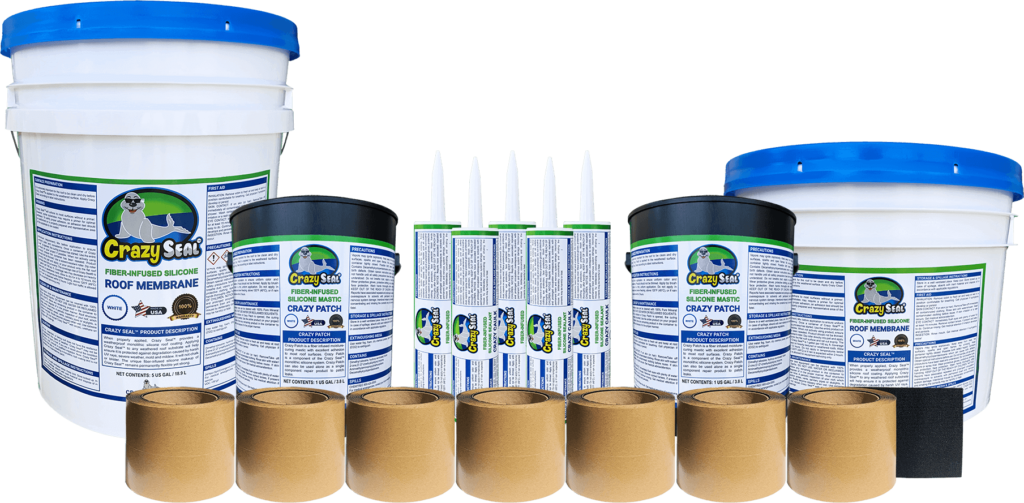 "Thank you for a great and reassuring experience! I have already referred this system to 3 family and friends."
– David Vincent, Key Largo, FL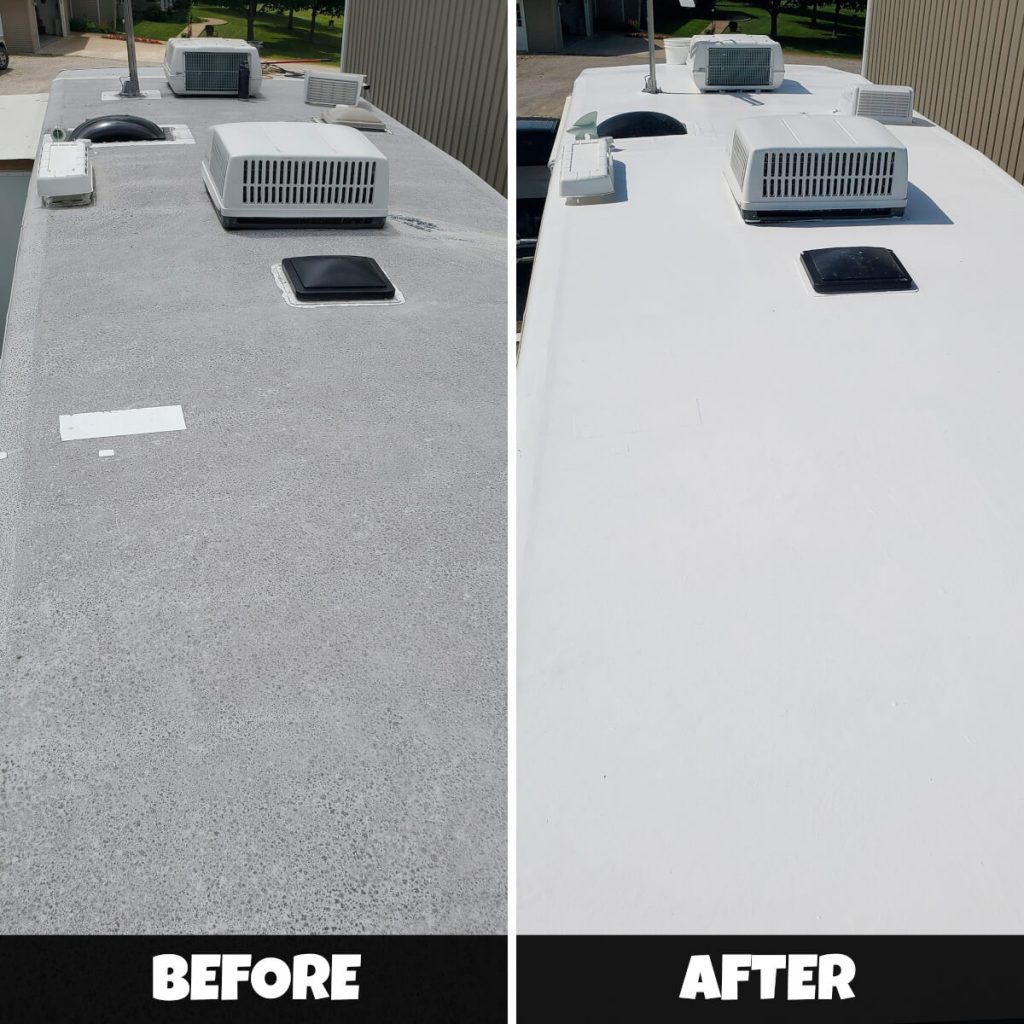 "I loved the product. I'd recommend it to anybody!"
– Dan Horning, Sarasota, FL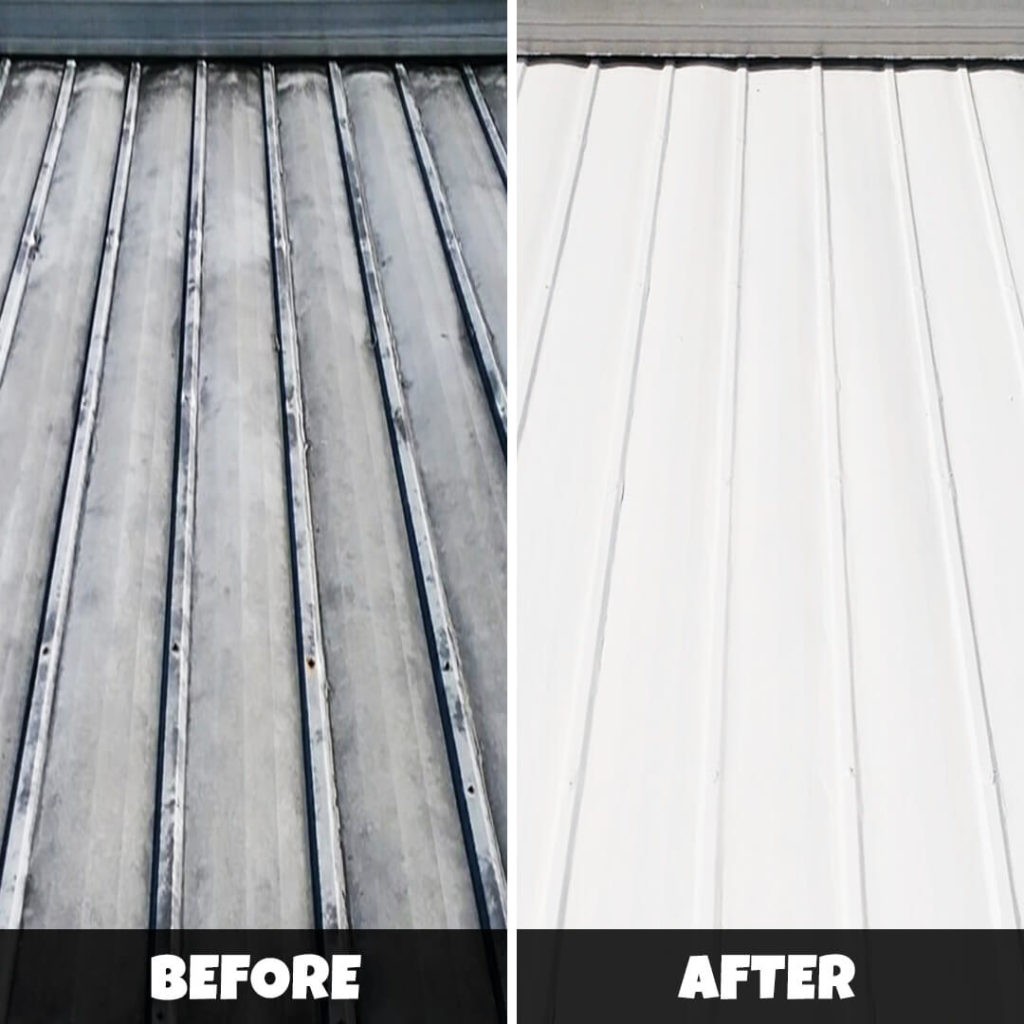 "We could not be more pleased with the Crazy Seal product."
– Philip Posey, Tuscumbia, AL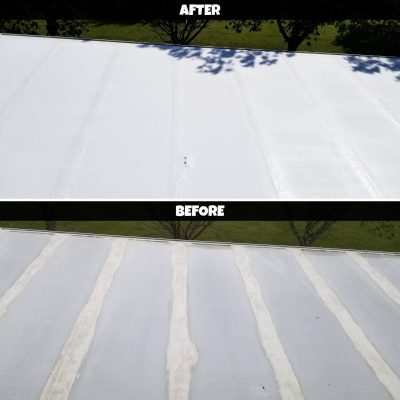 "After viewing the DIY videos 4 times, I followed the instructions to the letter. The product went on easily."
– Douglas Evans, Overton, NV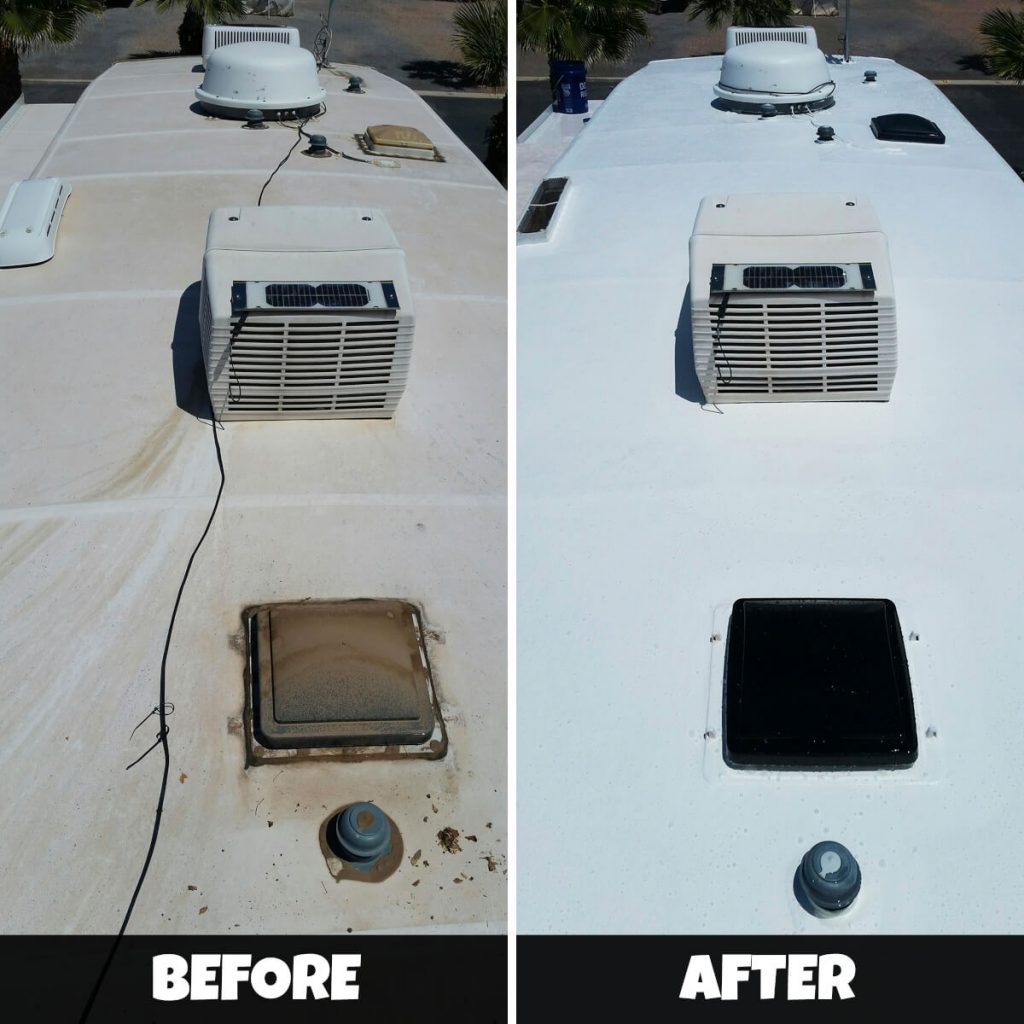 YOU CAN BUY CHEAPER. YOU CAN'T BUY BETTER!
Crazy Seal is an engineering marvel. Our chemical strategists and product testing teams spent years developing what may well be the strongest fluid-applied membrane ever brought to market. Now our patent pending system is here and available to help you complete your seamless roofing project, backed by a fifty year warranty.
Our patent pending system offers advanced new technology that solves an age old problem. For decades, there has been a huge gap in roofing. Most options ranged from low-grade coatings that are temporary at best to inferior roof membranes that often fail within 3-5 years. Previously, access to high quality materials was only available to large roofing contractors. We've changed that with Crazy Seal! It's time to take care of the small and mid-size project with an affordable, high-grade system that can stand the test of time. That's where Crazy Seal comes in, offering a dynamic new system for the DIY'er that's looking for a permanent solution to their roofing needs.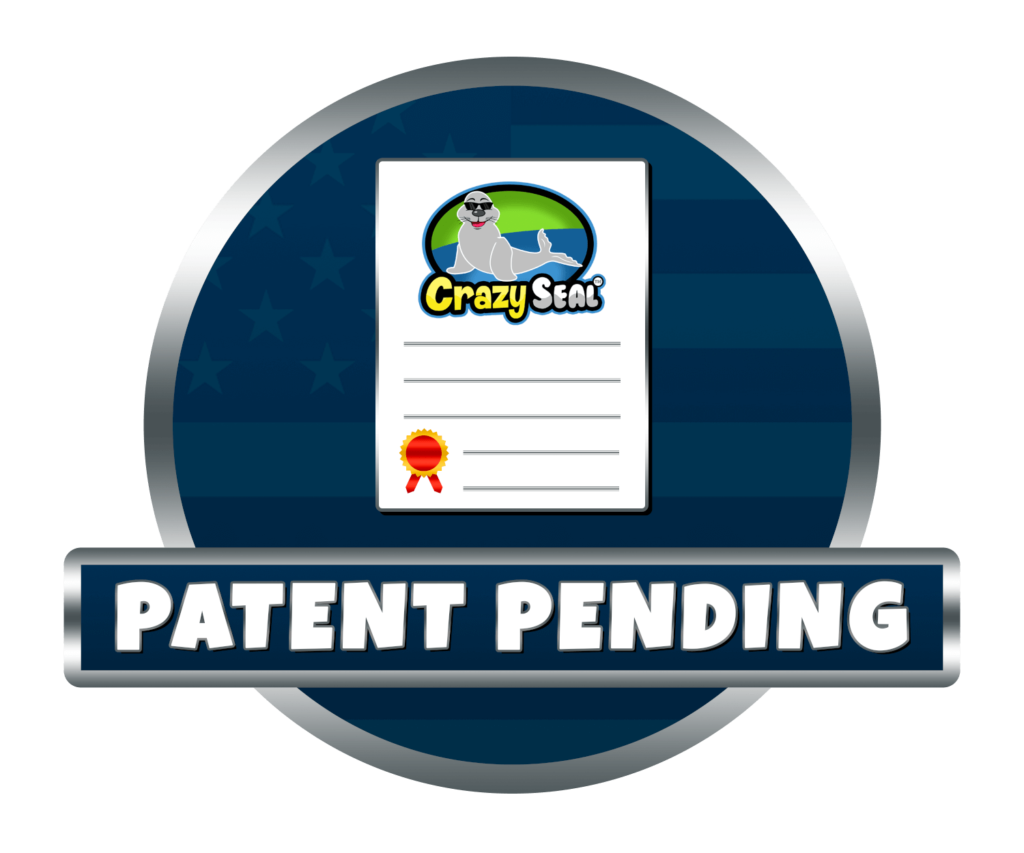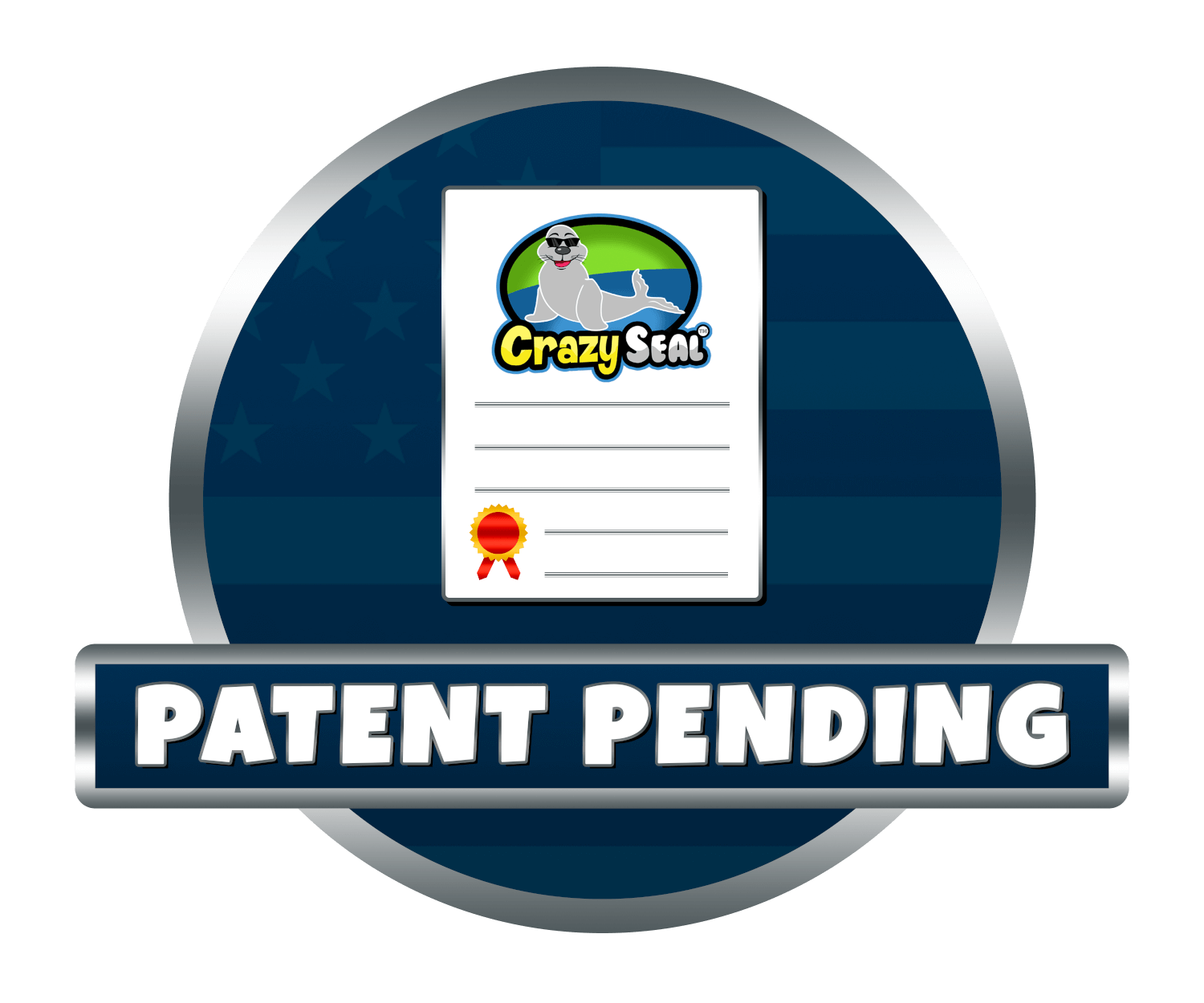 DO IT YOURSELF & SAVE BIG
Much of the cost of a typical roofing installation comes with labor. Do it yourself and save big with raw materials factory direct from Crazy Seal!
Hiring a roofing technician can take several weeks or even months. With Crazy Seal, you can have a brand new roof within hours of receiving your kit.
If it's worth doing, it's worth doing right. Rather than putting a bandaid on a problem, do it right and do it once with the Crazy Seal roofing system.