WE LOVE SHOWING OFF YOUR DIY HANDY WORK
We believe in the quality of our products, but the proof is in the pudding! Here's what our customers say:
"THANK YOU for a great and reassuring experience! I have already referred this system to 3 family and friends. I'm looking forward to a very long, assured feeling of protection from water intrusion. I also experienced exceptional customer support!"
– David Vincent from Key Largo, FL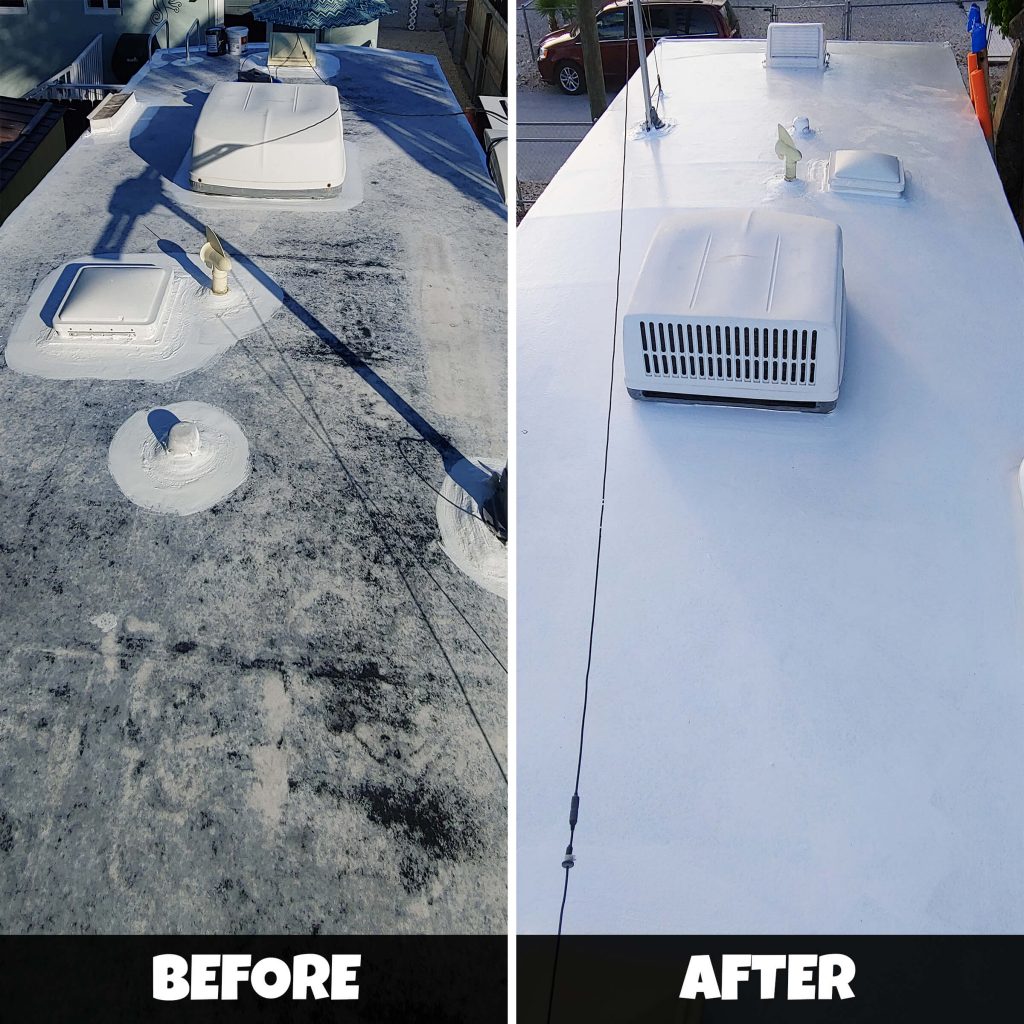 "We could not be more pleased with the Crazy Seal product. We are expecting to have many years of enjoyment from our sunroom now that we do not have to worry about leaks."
– Philip Posey from Tuscumbia, AL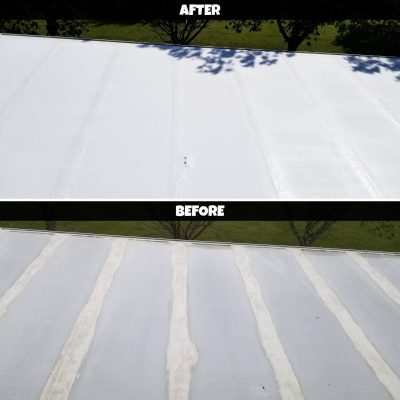 "After viewing the DIY videos 4 times, I followed the instructions to the letter. The product went on easily."
– Douglas Evans from Overton, NV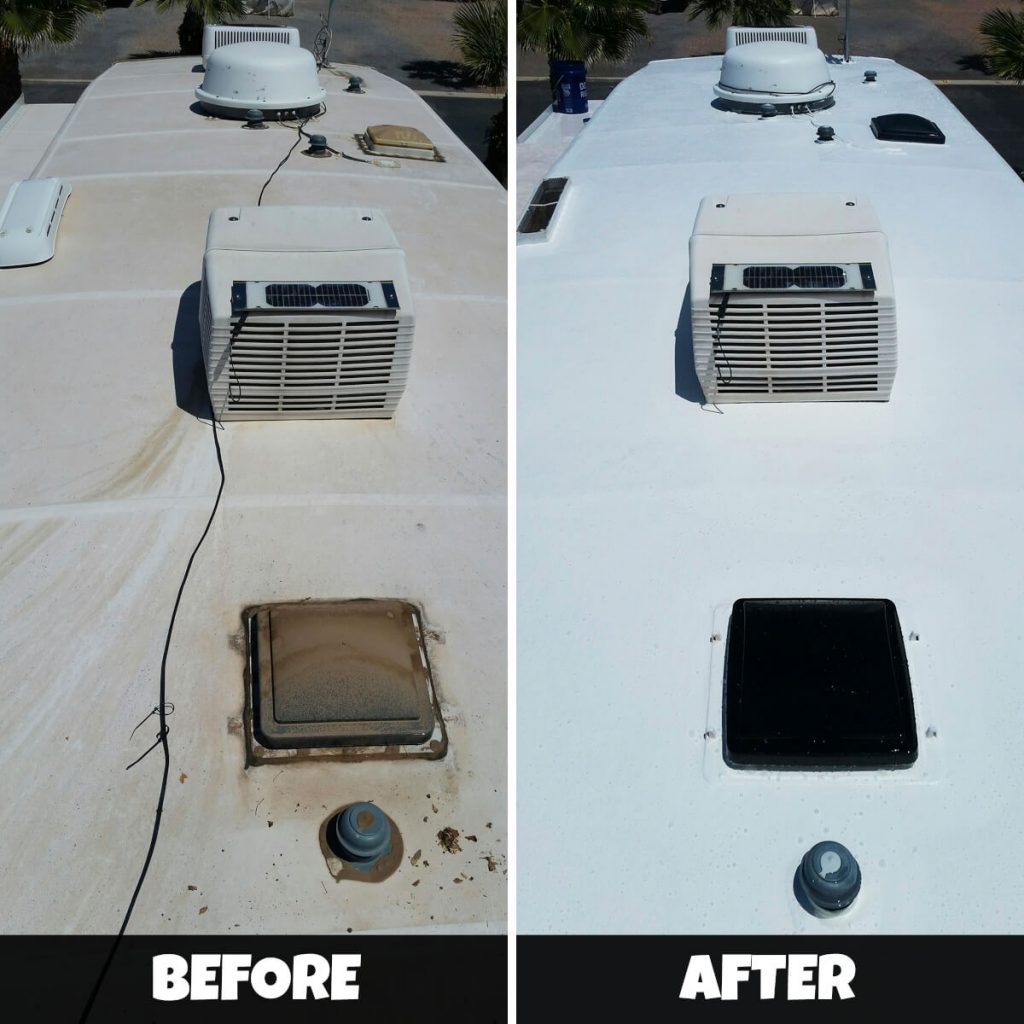 "Installation was not bad with easy to follow videos on website. Seems to be a great product. I will put it to the test as I plan on using my RV a bunch this year, thanks!"
– Mark Milstead from Leroy, AL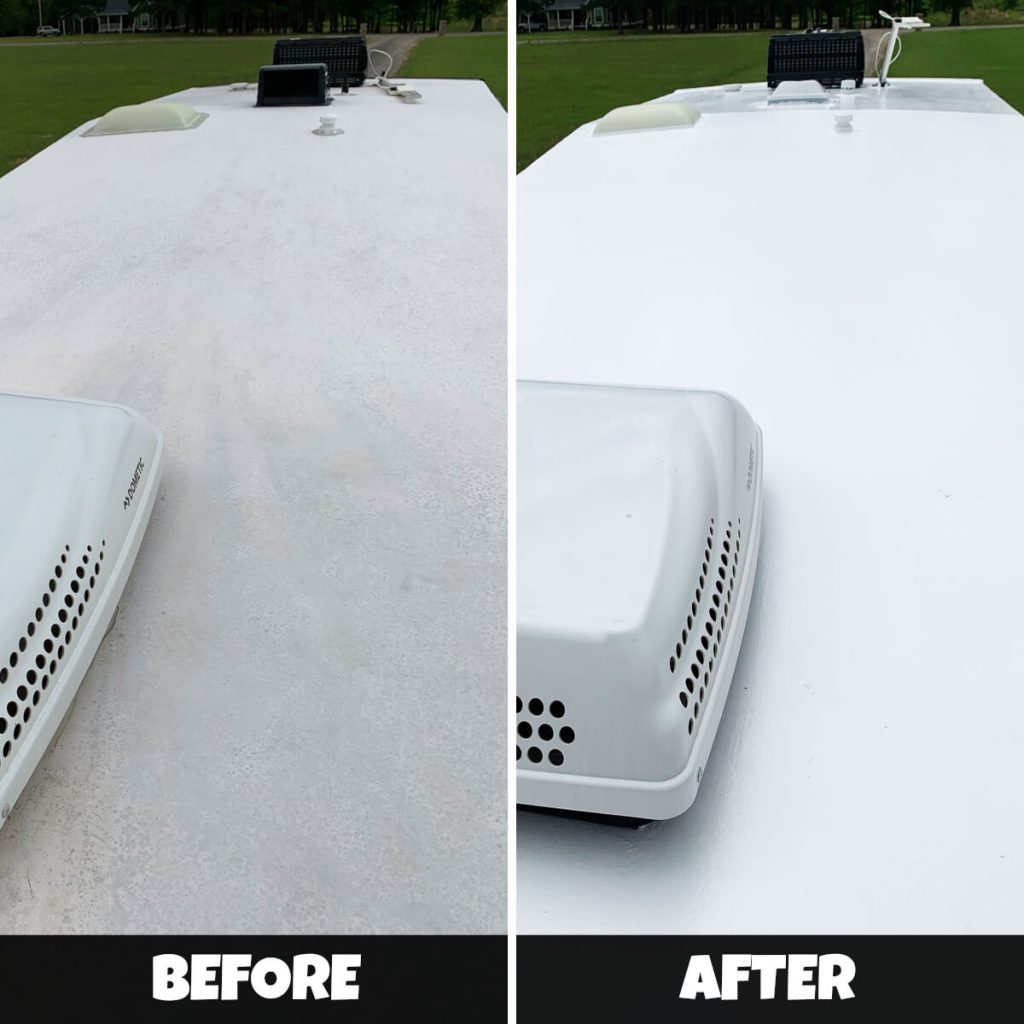 "Great experience, took a little getting use to the product but no complaints. Great delivery, products and instructions!"
– Kirk Chrysler from Allendale, MI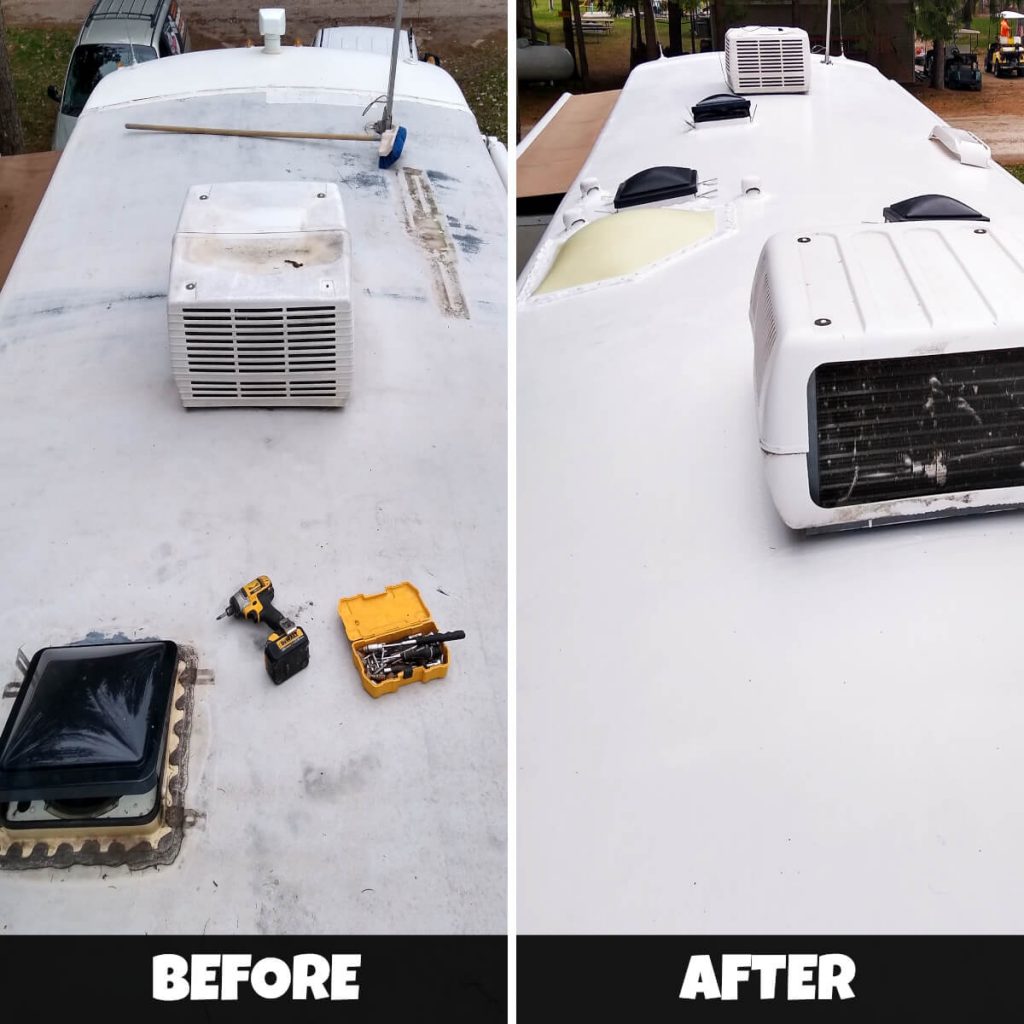 "Incredibly simple install with outstanding finishing results."
– Jason Willams from Bainbridge, GA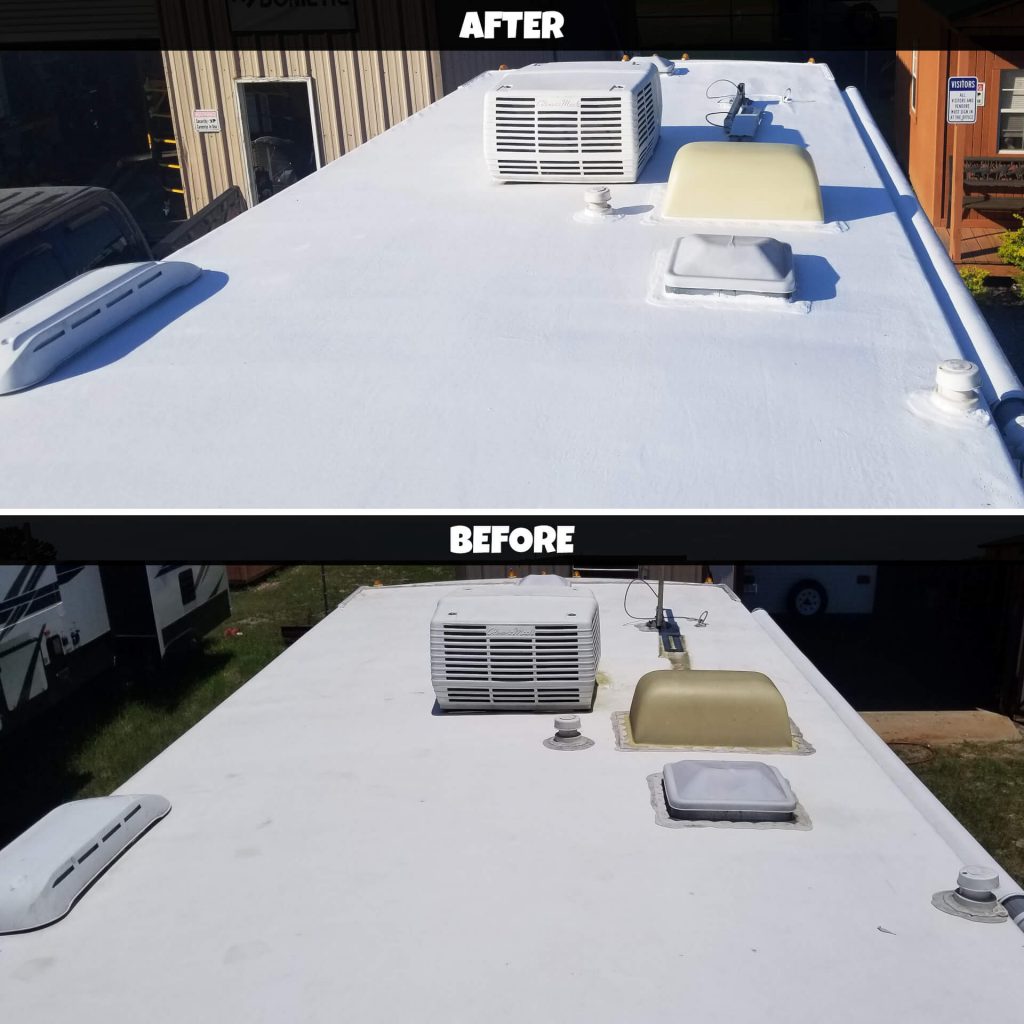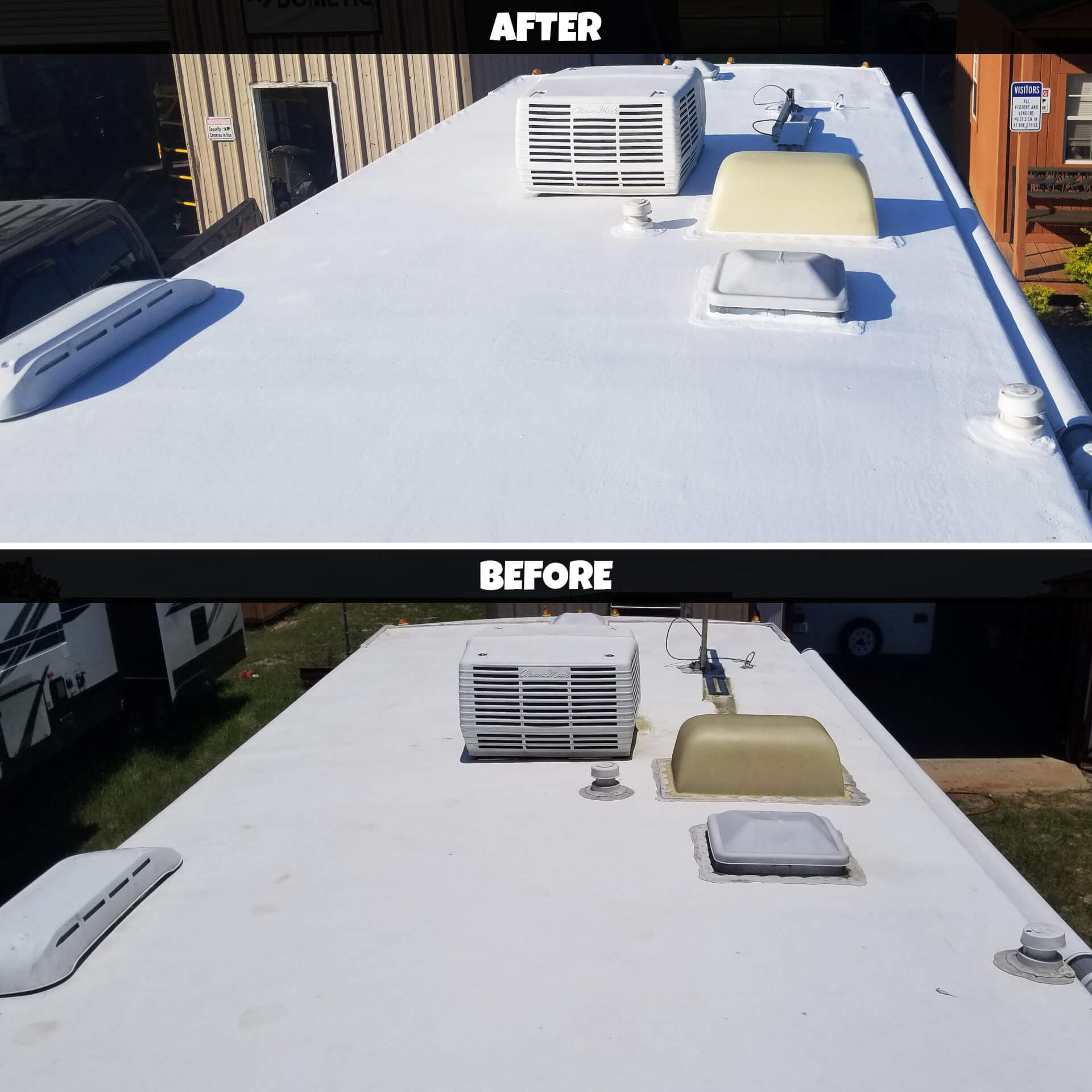 "Application was a breeze! I love how rubbery it feels."
– Darren Lindsey from Roseville, CA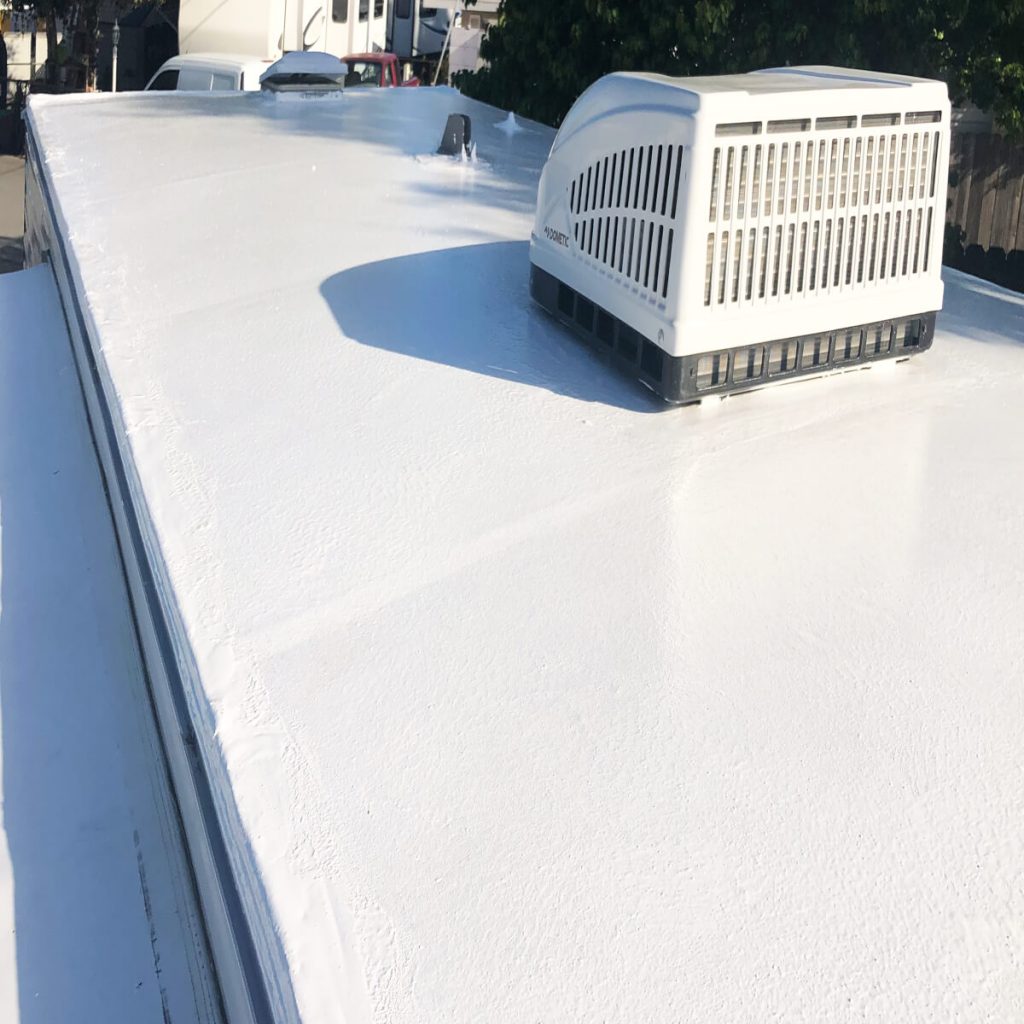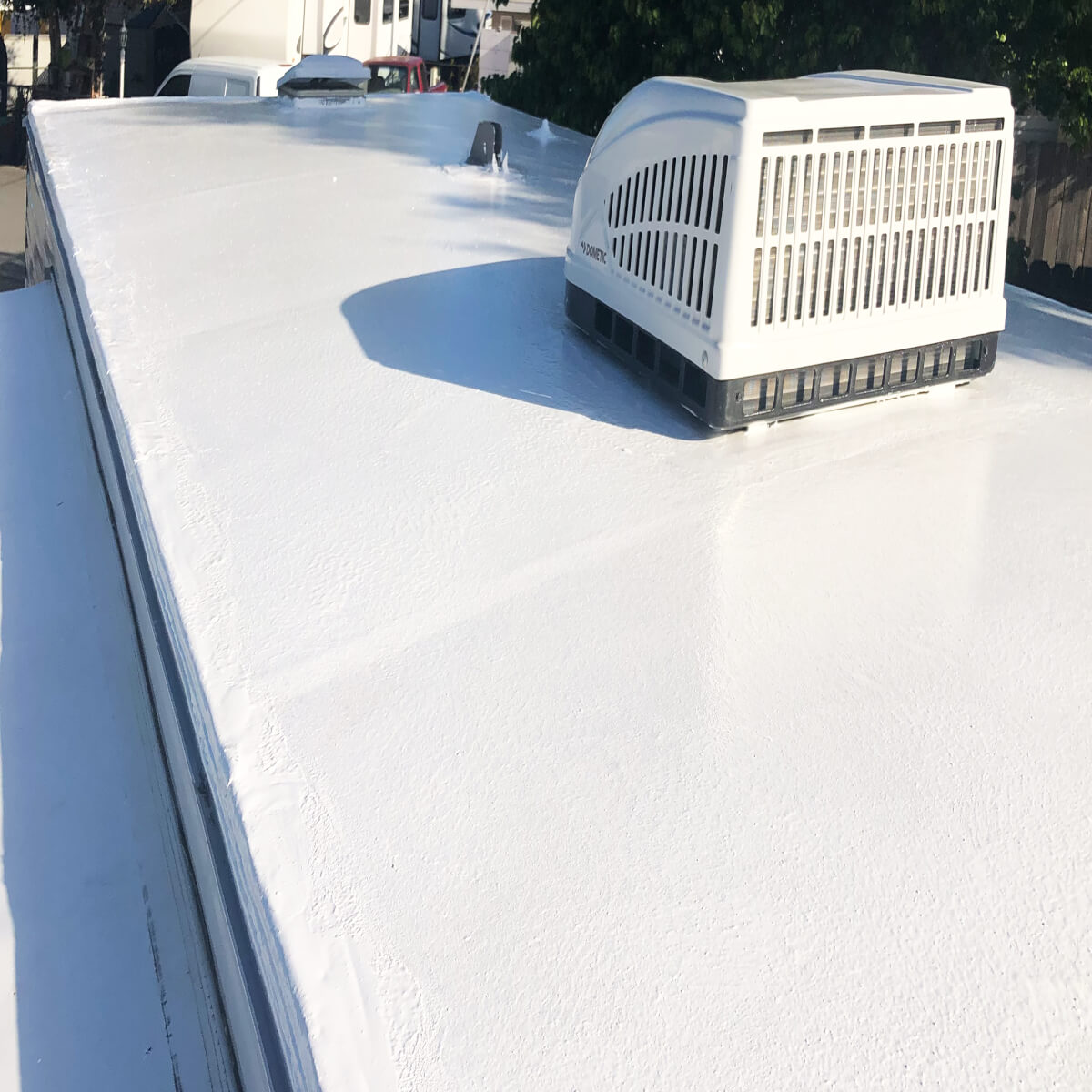 "Labor intensive, but rewarding!"
– William Lewis from Cheyenne, WY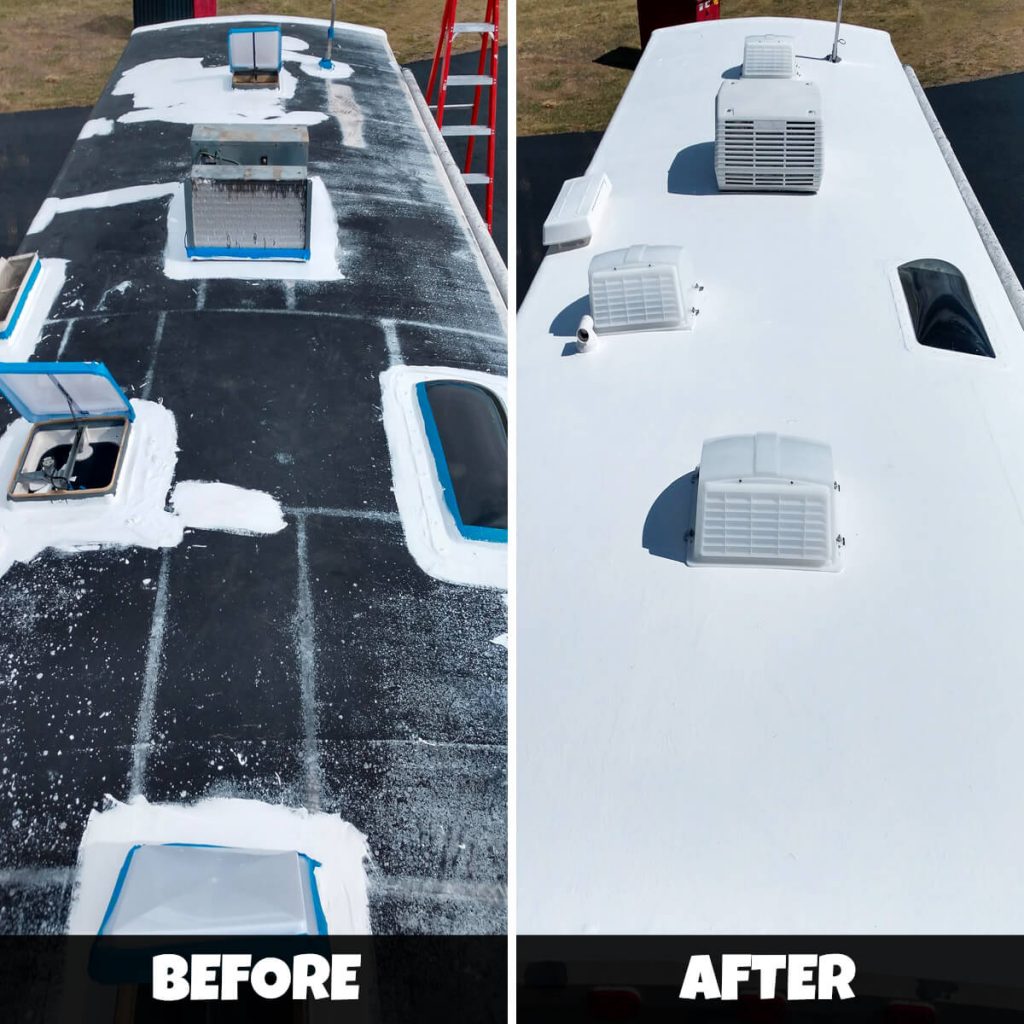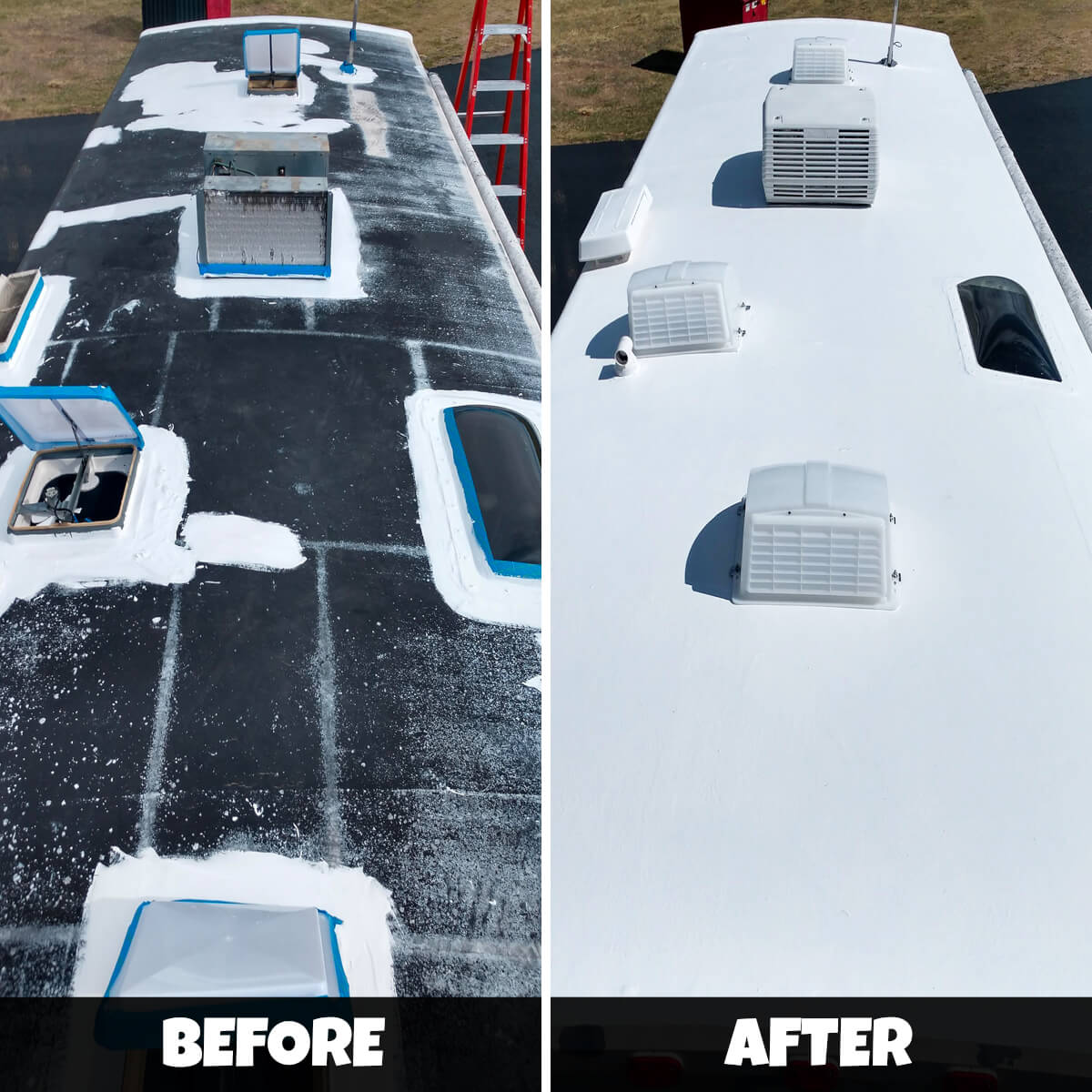 "Very satisfied. Best product ever! Would recommend it to anyone looking to be "Once & Done""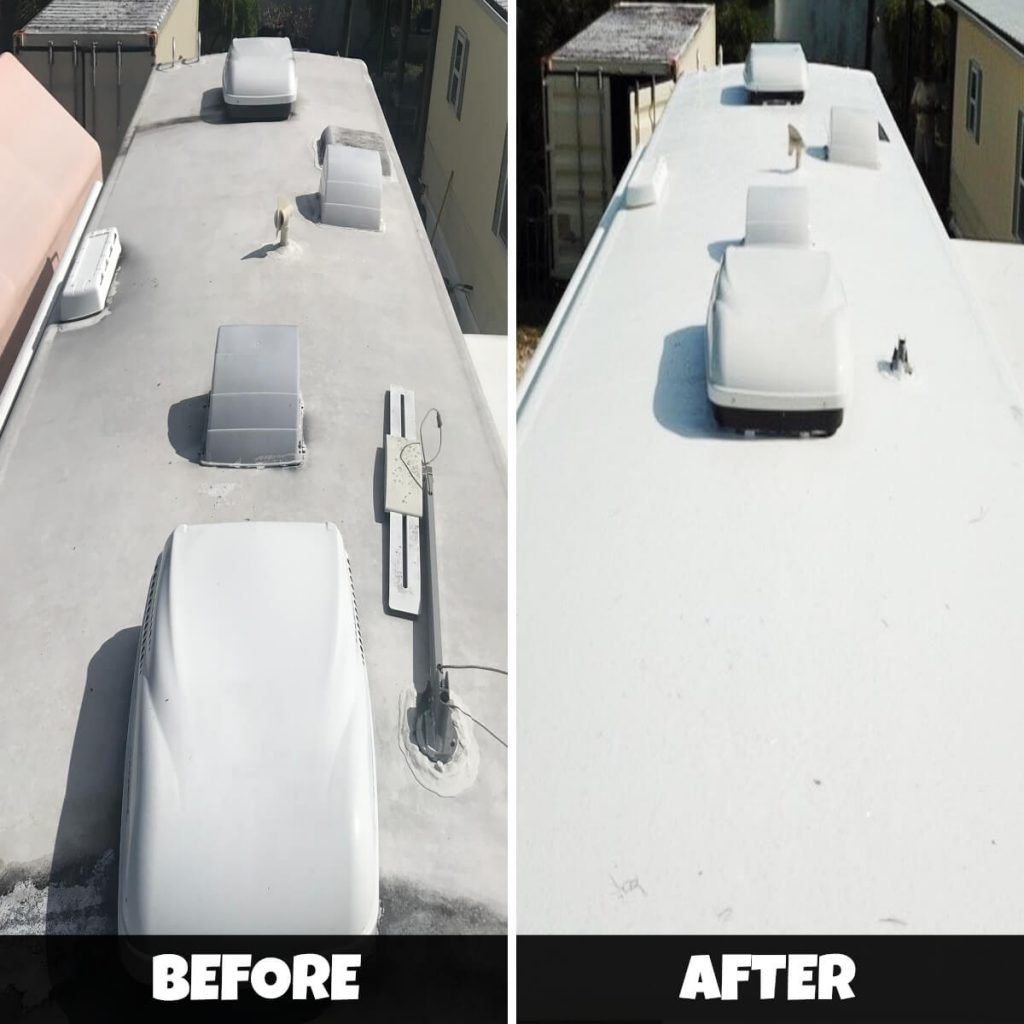 "The process was as easy as it appeared to be in the instructional videos."
– David Swanson from Castro Valley, CA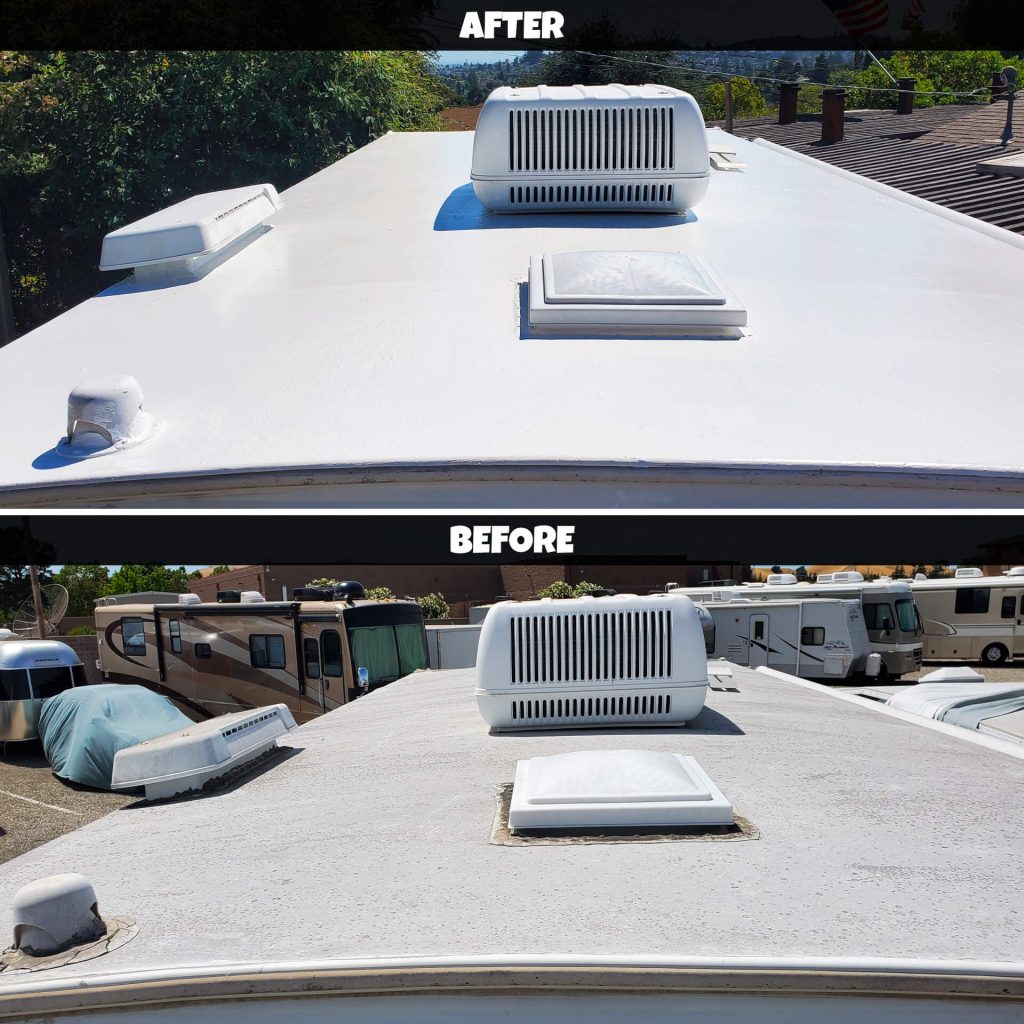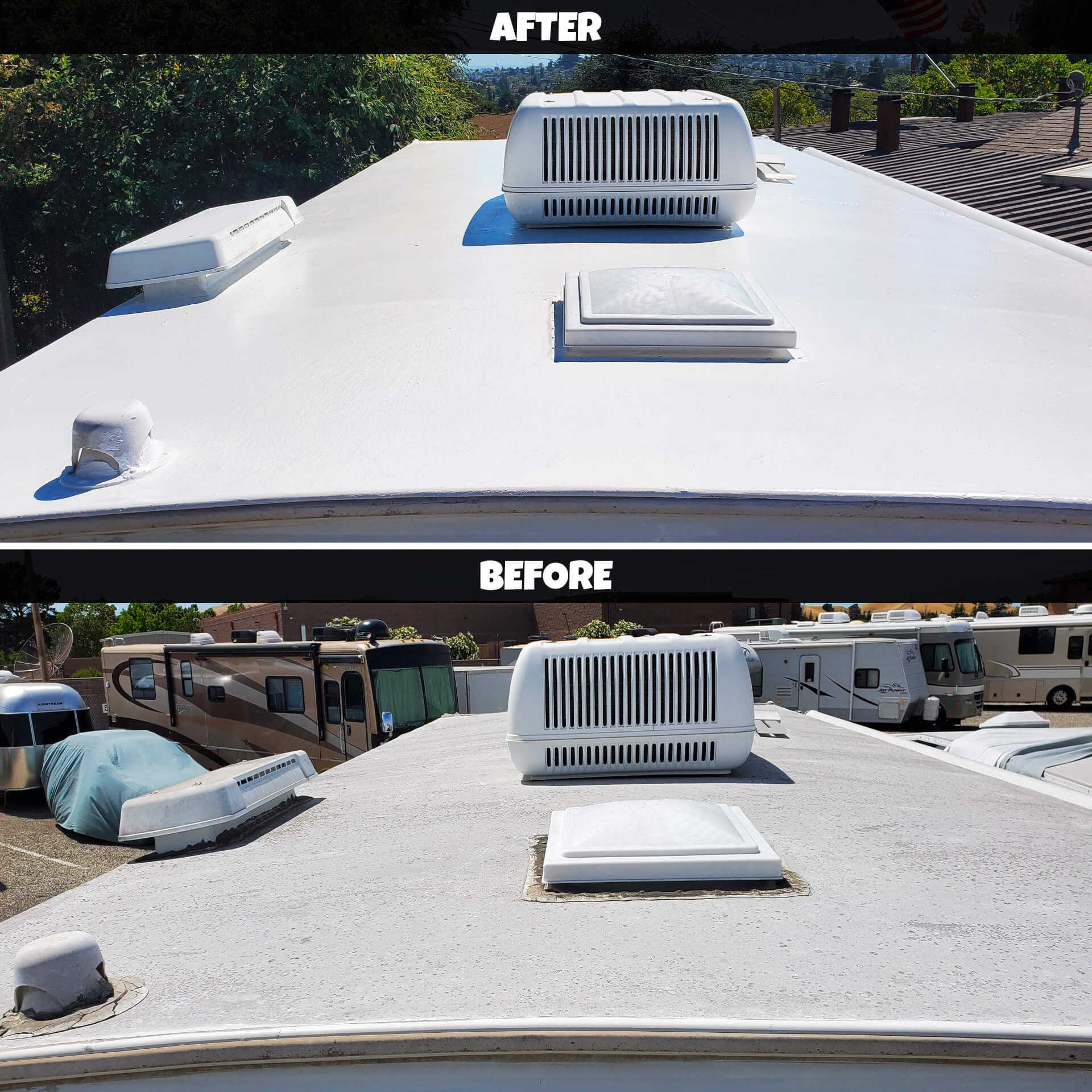 "Lots of prep work but the install was easy. I love the final product! No more worry when it rains. Thanks"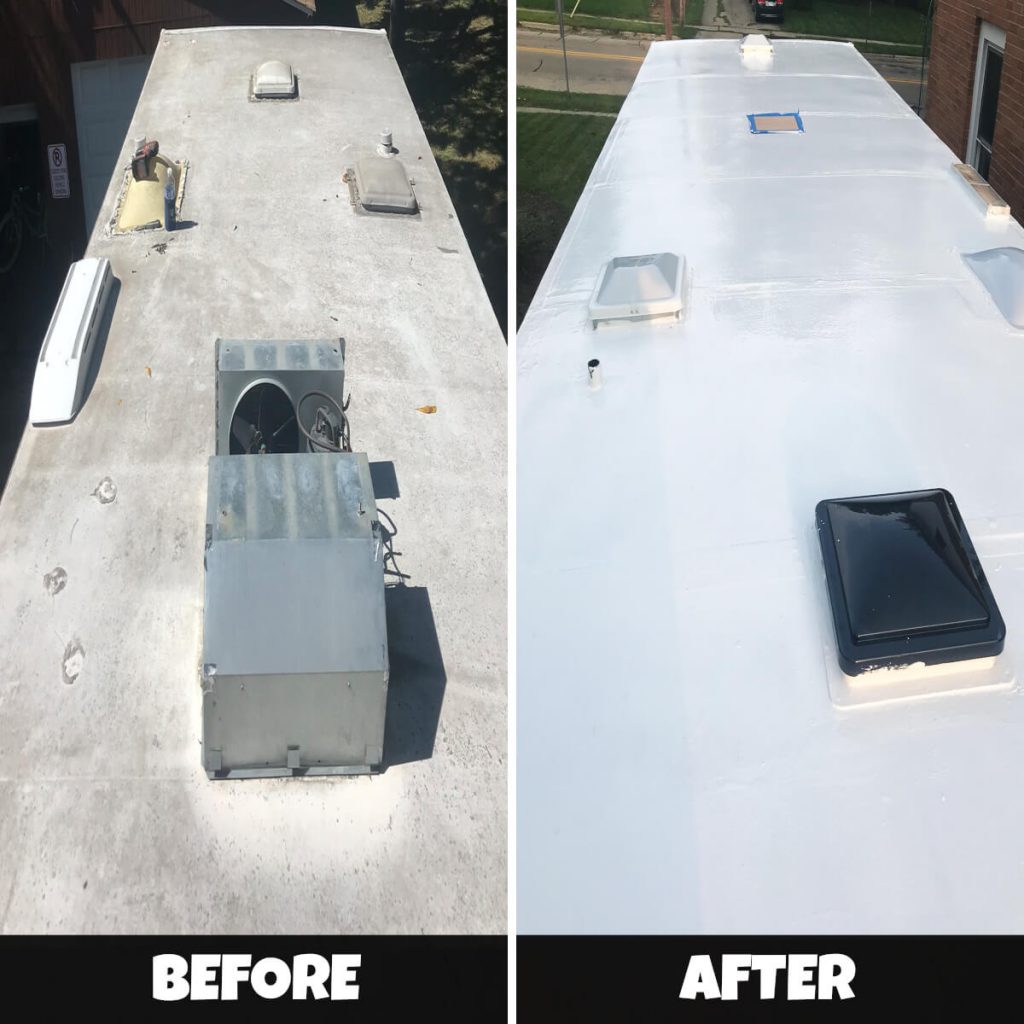 "Great product, went on like advertised and ended up with a great looking roof that will last a long time."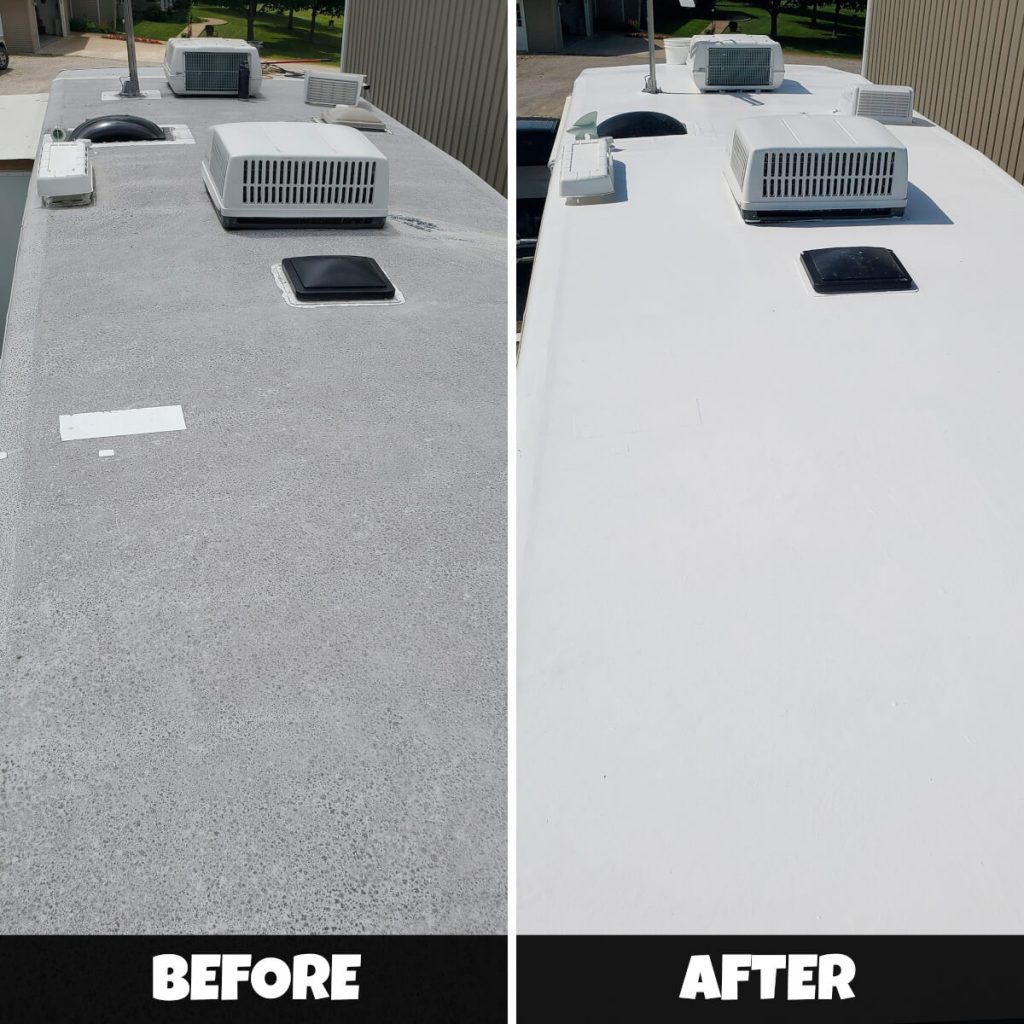 "The support videos are outstanding. Product support and customer service is fantastic. And the product application was very easy. I've already recommended this to some of my camping friends."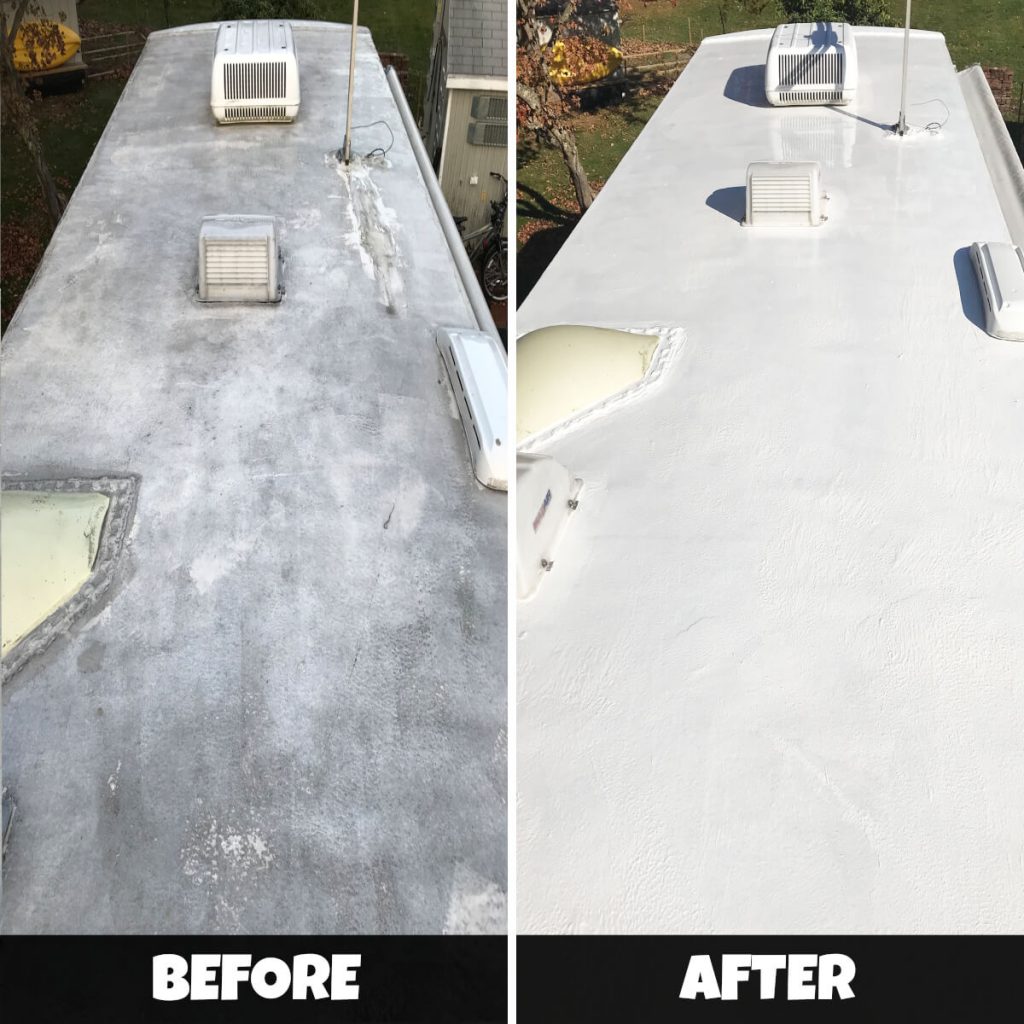 "Applying Crazy Seal was easy and once it cured it felt very durable. I have a lot of confidence in the product now and am not worried about my roof leaking."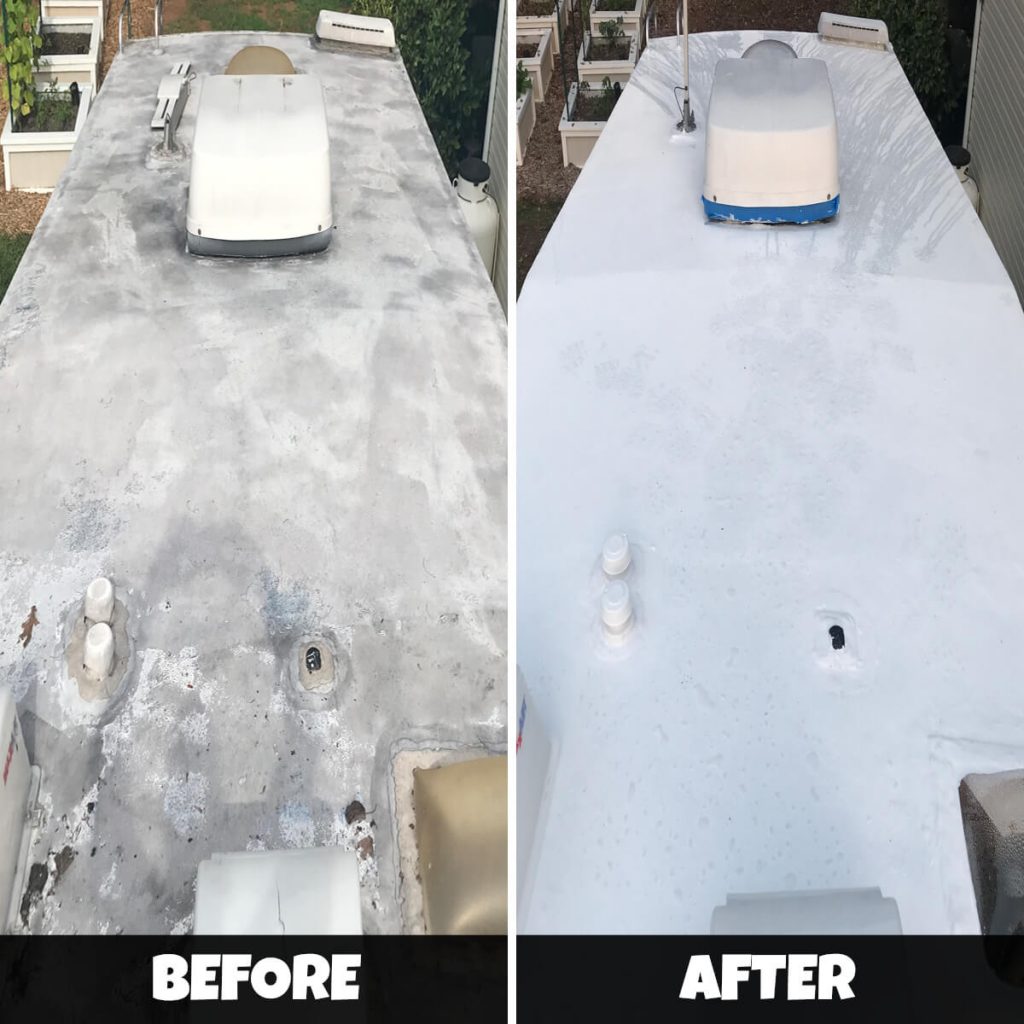 "I could tell by how well it adhered that it is very strong and flexible. It applied easy. Make sure you use gloves! I am an independent contractor and this stuff is different (in a good way) than anything I have ever used. Very impressed so far."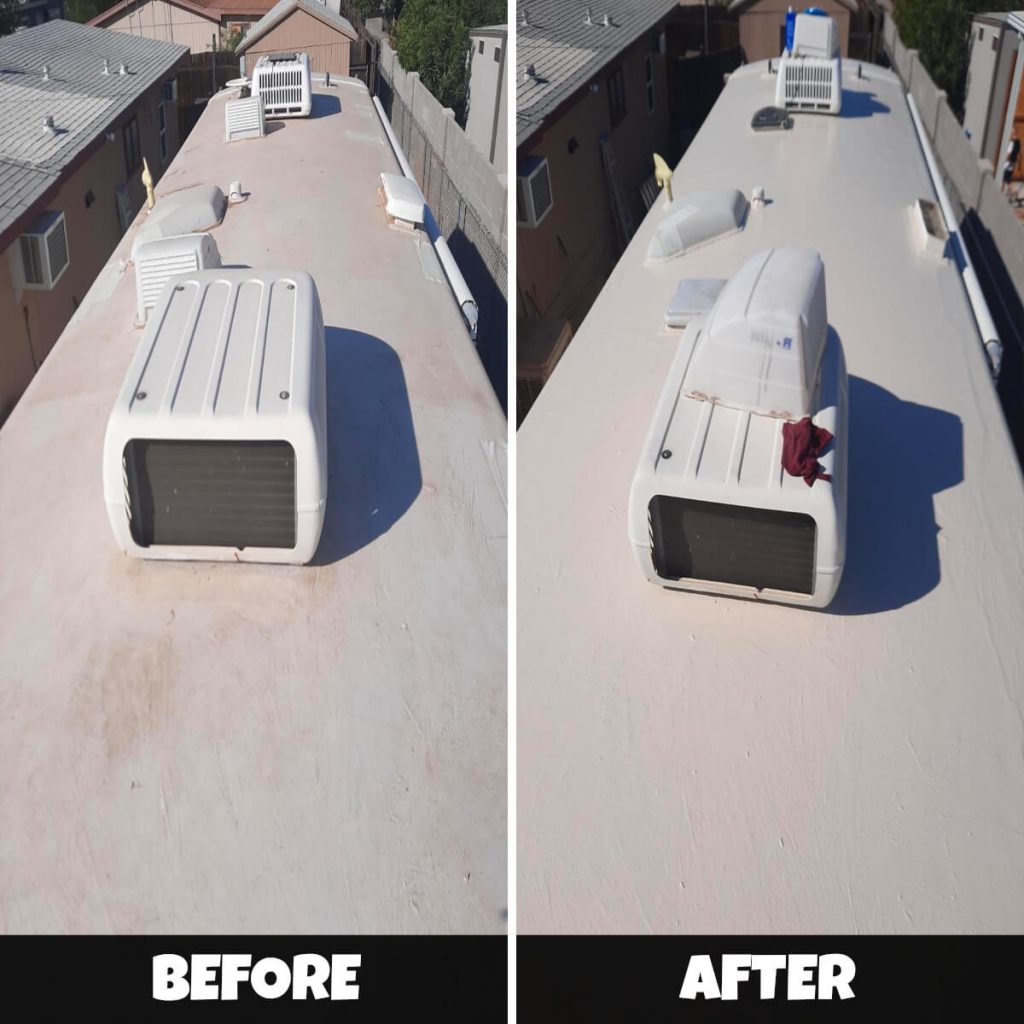 "Awesome customer service! Product fairly easy to use, videos are tremendously helpful. Looking forward to years of maintenance free service."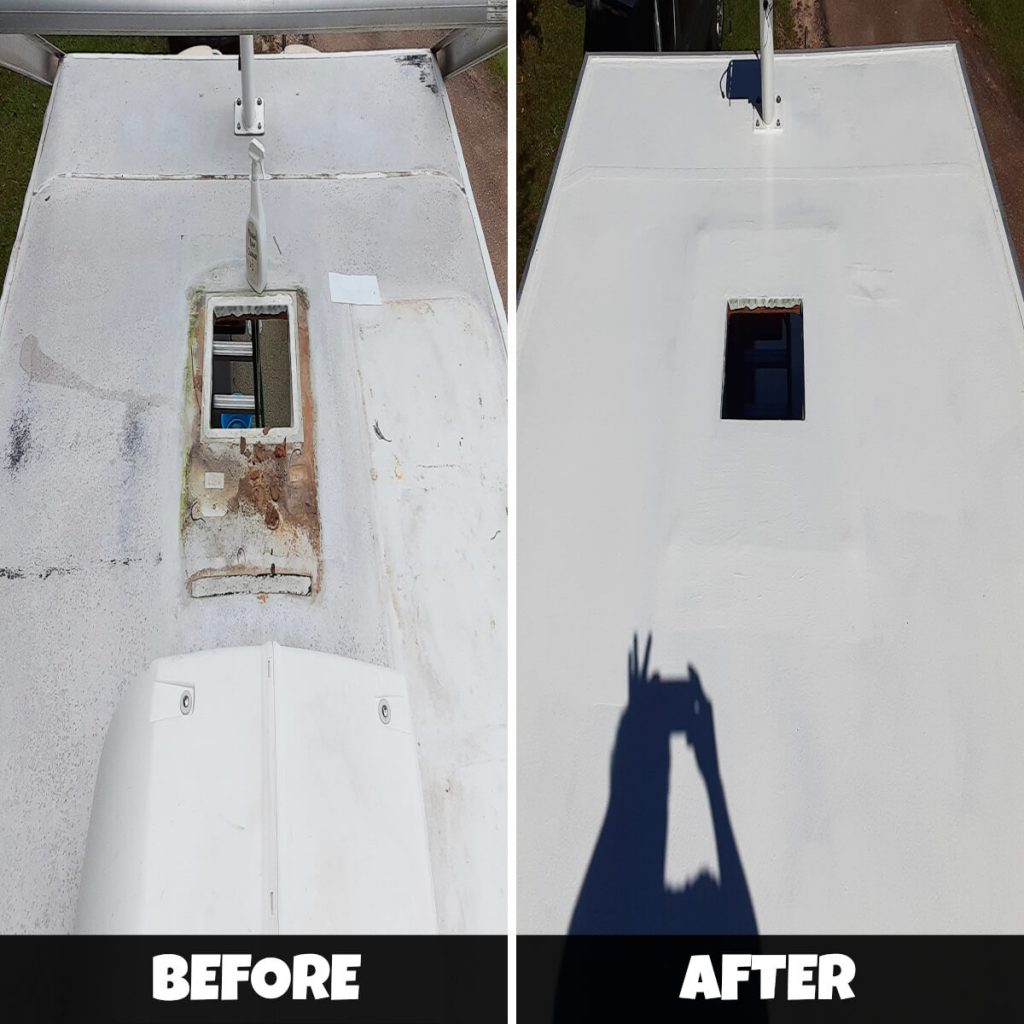 "It was easier than I thought!!"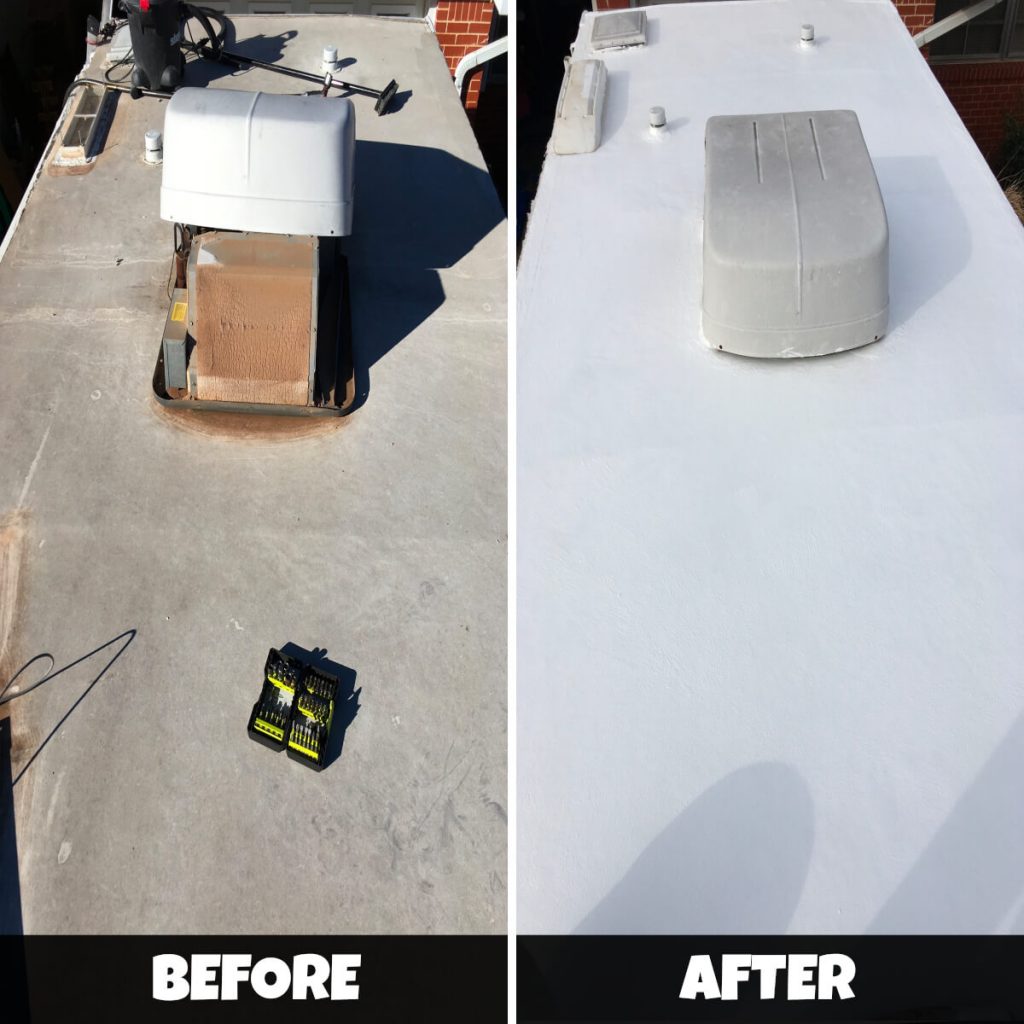 "Very happy with the product and the customer service is second to none. All the work is in the prep. Take your time with that and everything will go well."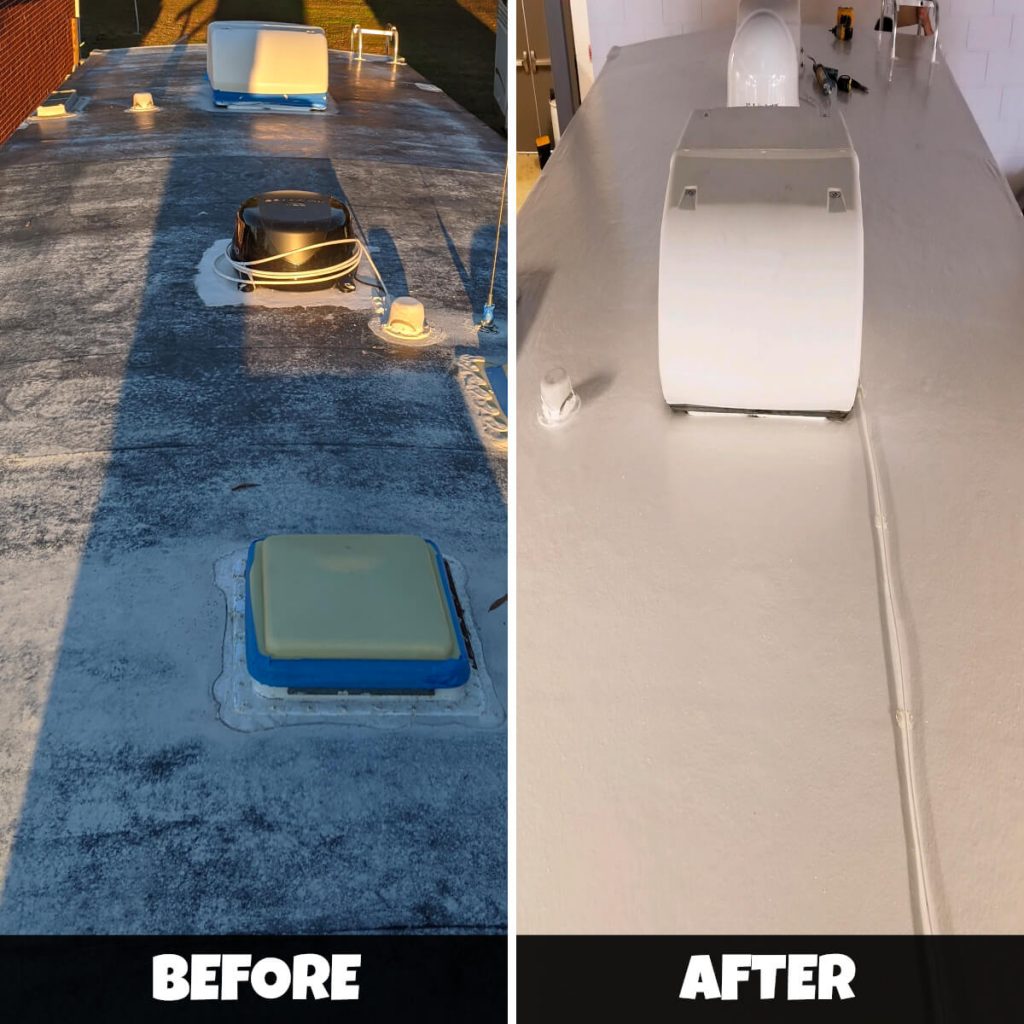 "Great product to work with. Look forward to enjoying my maintenance free roof!"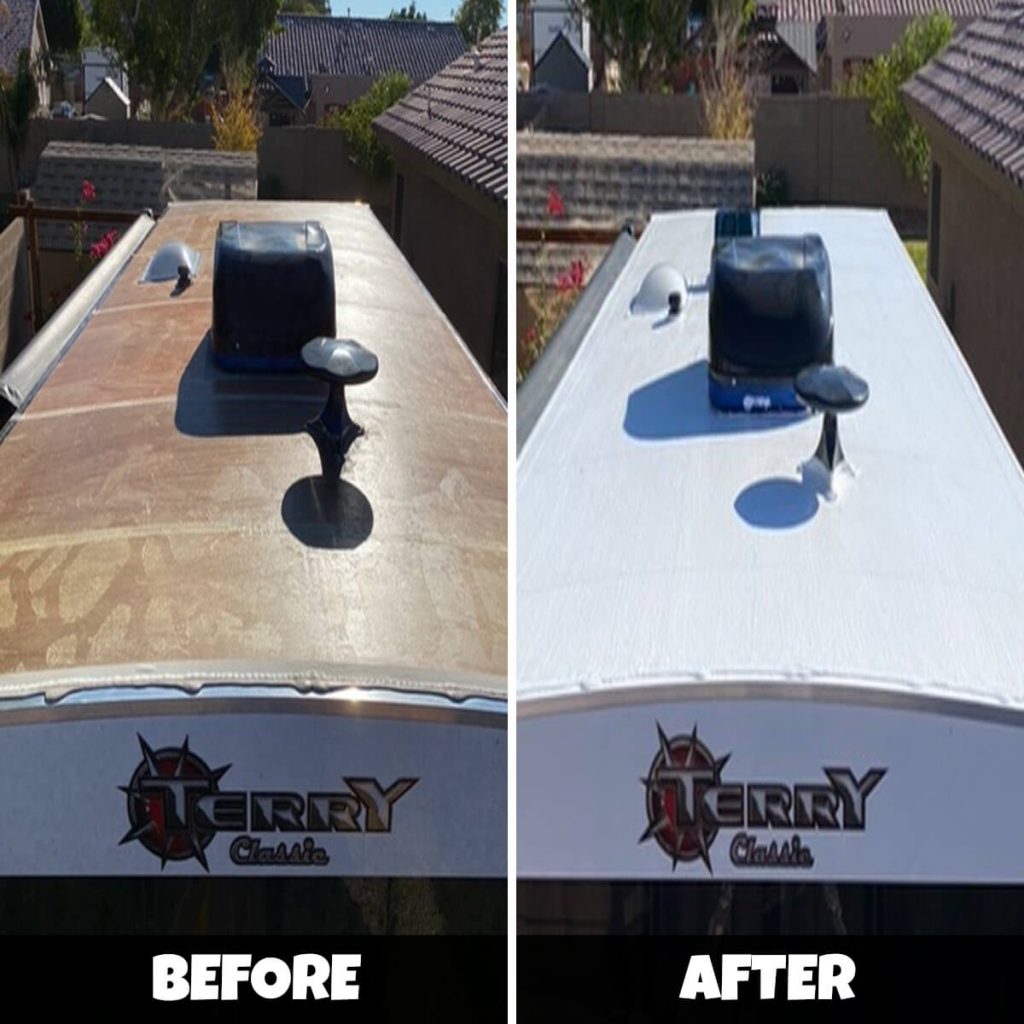 "Pretty easy install. Followed the directions exactly as prescribed and looks great. Water beads up on the roof and just sheets off now. Very satisfied with how easy it was."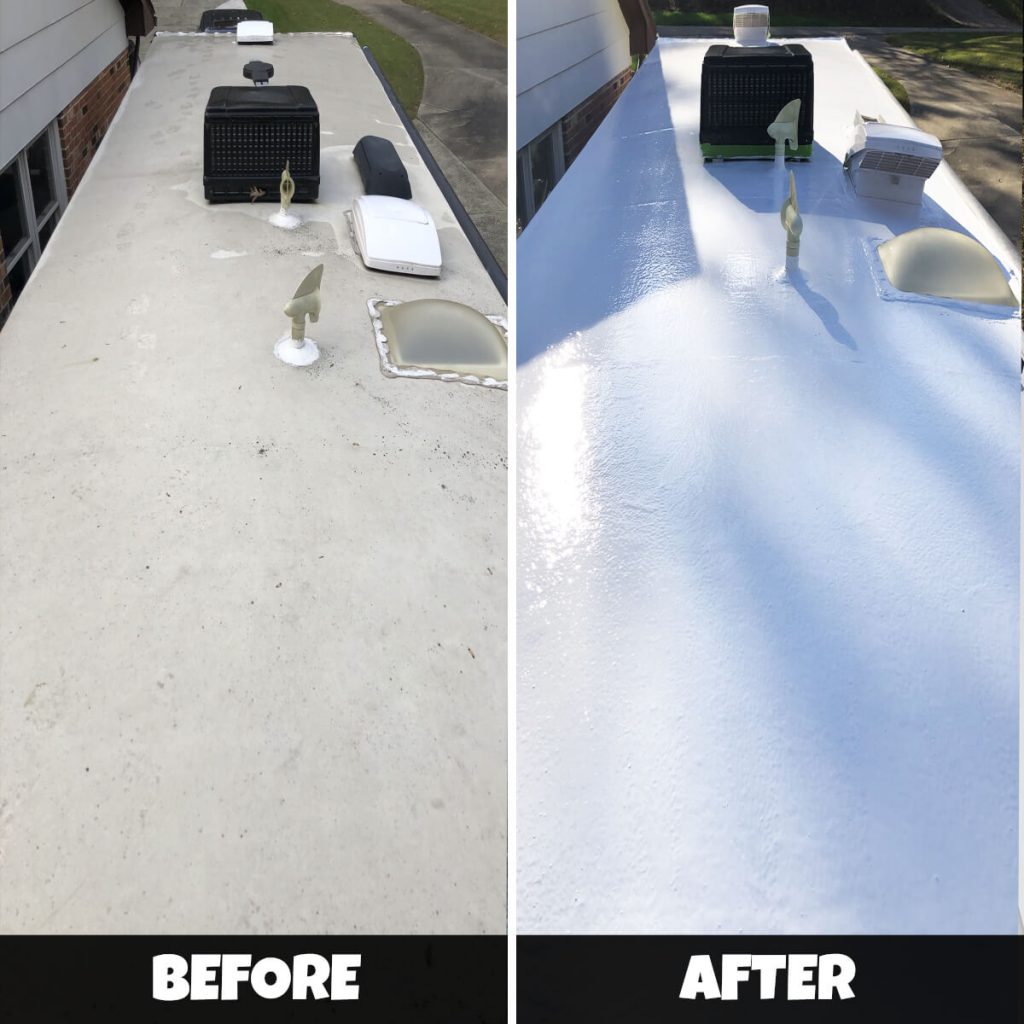 "Very easy installation great product and so far looks excellent"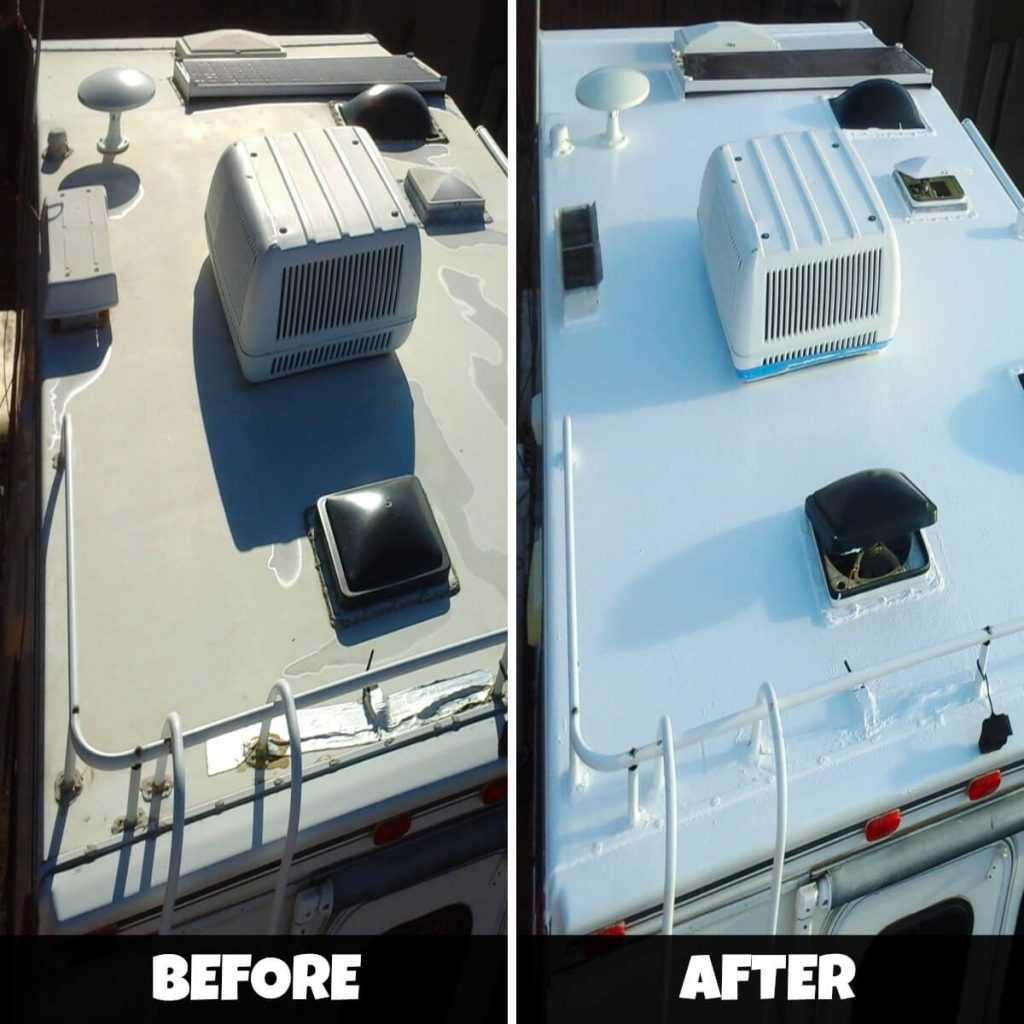 "Very pleased with the process, want to thank you for your immediate attention when part of the shipment was destroyed."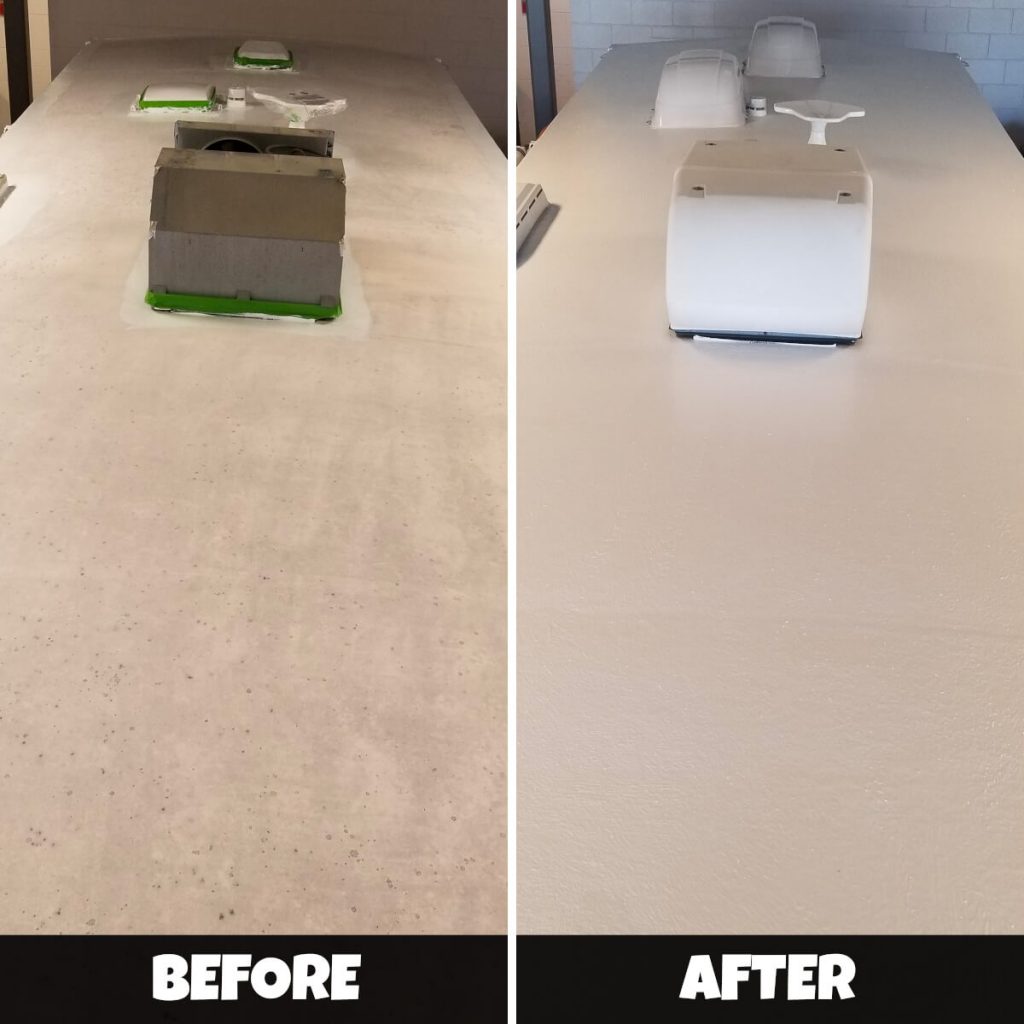 "I followed instructions to a T and did more prep work than needed, but I wanted to make sure everything went on as smooth as can be. And it did! 2 coats later, I had a very tight seal. I was very impressed with the outcome and it didn't break the bank."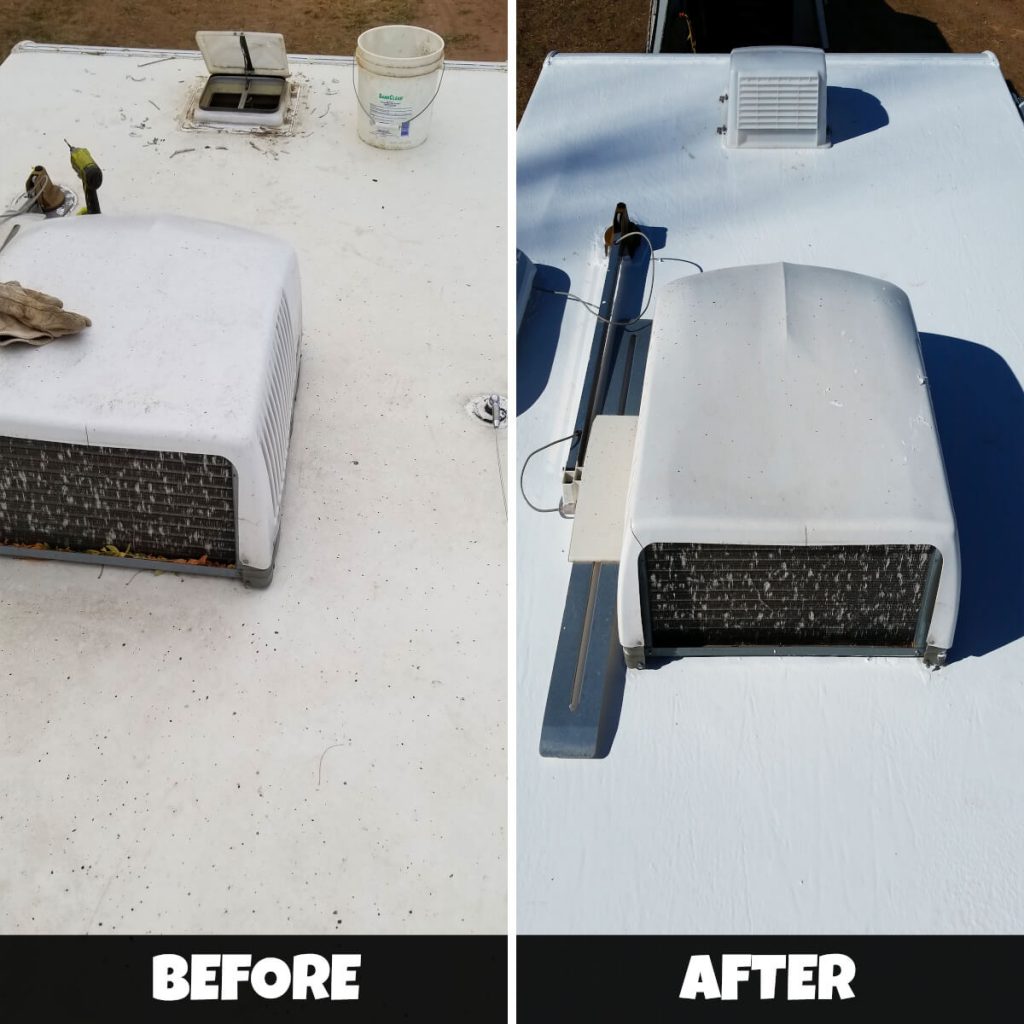 "Amazing product! Easy to apply. I live close to the coast, and my aluminum roof had corroded. I'm glad I decided to remove the air conditioner, as the aluminum was completely dissolved in 2 spots! I slipped a new sheet of aluminum under the existing roof through the opening. Used crazy caulk between the layers. Used pop rivets to sandwich the layers together, then both crazy caulk and crazy seal over everything. Also used your mesh tape, crazy caulk, then crazy seal over any sealant tapes I wasn't sure about adherents, worked great! I used crazy caulk along all the roof-to-sidewall trim too. I now have a truly one piece waterproof roof! I was quoted over $1,800 for their products that looked very similar, and that was leaving the air conditioner in place. Thank You again!"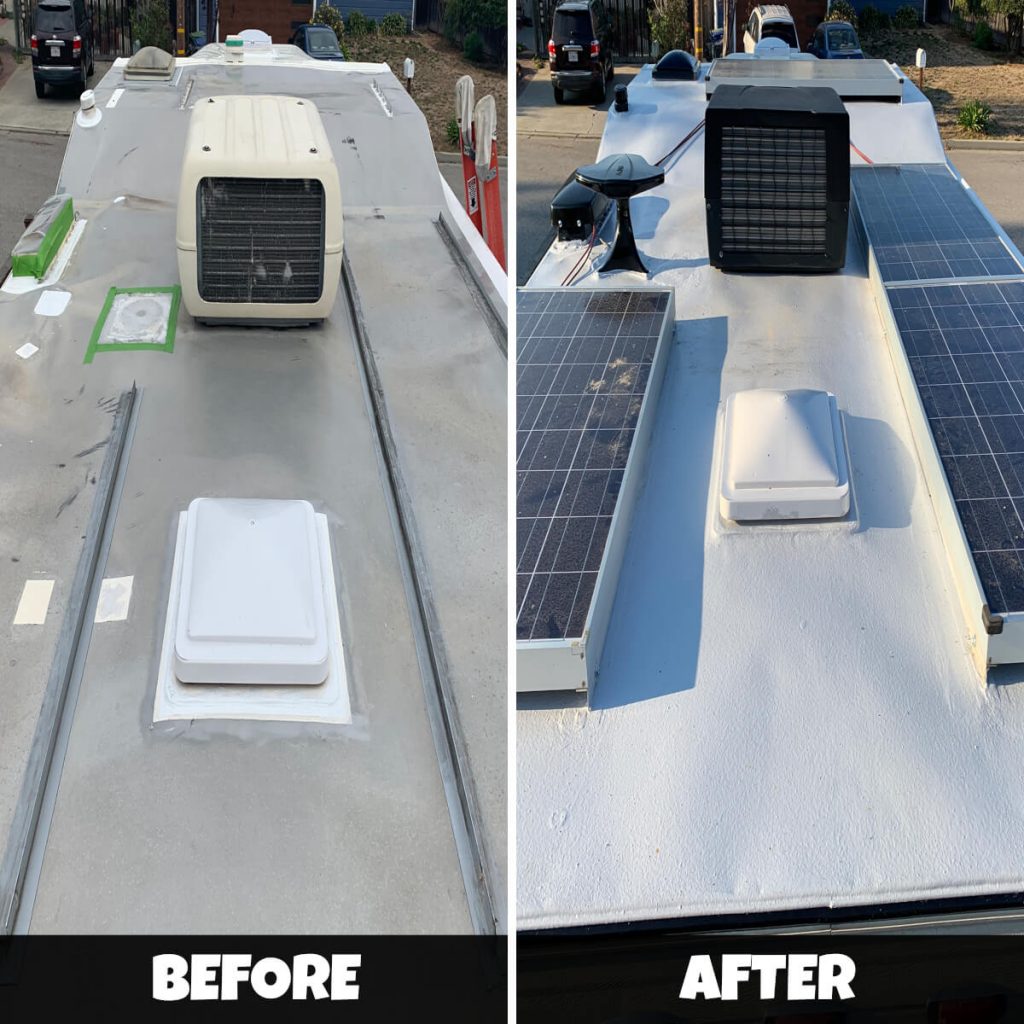 "The diy application was just as described. Excellent instructions and the videos were super helpful. Amber was very user friendly and answered all of our questions each time we called. This is a houseboat and several people on our marina dock are very interested in using this product. The strength of our rooftop has never been so strong. It has been thru 2 hurricanes and not one leak! Thank you!"
SOUTHERN GINGER WORKSHOP TACKLES A HYBRID WOOD / EPDM RUBBER INSTALLATION
"All I can say is wow! This product is amazing, did you notice I was able to just coat right over bare wood? They call that a hybrid solution, when its all done, you cannot tell the difference between the varies materials. The main goal here is to make sure you have a solid clean surface to roll this solution onto. After that, you pretty much can't mess it up 😀"
– Zach Manring Canton, GA
INDEPENDENT CONTRACTOR USES CRAZY SEAL DOUBLE COAT SYSTEM TO SEAL MOBILE HOME ROOF
"I'm an independent contractor and I'm always looking for good products to use. I came across Crazy Seal. I used it on a modular home that I was doing some work on and the people were having issues with the heat coming down on the roof and making it really hot. I used the Crazy Seal double coat application and sealed up different parts and cracks. It worked great. I loved the product. I'd recommend it to anybody!"
SLIDE THE MIDDLE BAR LEFT & RIGHT TO SEE THE TRANSFORMATION
FAILING EPDM RUBBER RV ROOF REPLACED WITH CRAZY SEAL
"Every one of these EPDM roofs are a problem just waiting to happen. It's not if it's going to happen, it's when it's going to happen. And by the time you see the damage, it's too late. I had significant damage inside so I started looking for a product that I could use for my reroofing of my camper. I was very hesitant to put EPDM rubber back on it knowing it would only be a matter of time again before I had the same issue. Then came an email about this do it yourself system.
The Crazy Seal website has videos and PDFs with perfectly clear instructions that anybody can follow. The Crazy Patch is like Crazy Caulk on steroids. It is just spectacular. Once I put that around the same seams over the Crazy Caulk, I was saying this is incredible because this will never, ever, ever leak. I will never have a problem with this again! Then came time for the Crazy Seal. I got a 3 gallon pail of the gray and a 5 gallon pail of the white. The two colors are identical products, but the first one is a gray so that when you do put on the white you can see where you're spreading it. Great idea!
There's a reason there's a 50-year warranty on this product. It'll be around a lot longer than I will and this camper will not have a leak in it. Support is over and above. I would behoove anybody that's going to be dealing with a roof, especially an RV roof, to use this product and you will not have to worry. You will not have a sleepless night wondering if you're going to have water damage again."
– Darrell Cove from Pelham, NH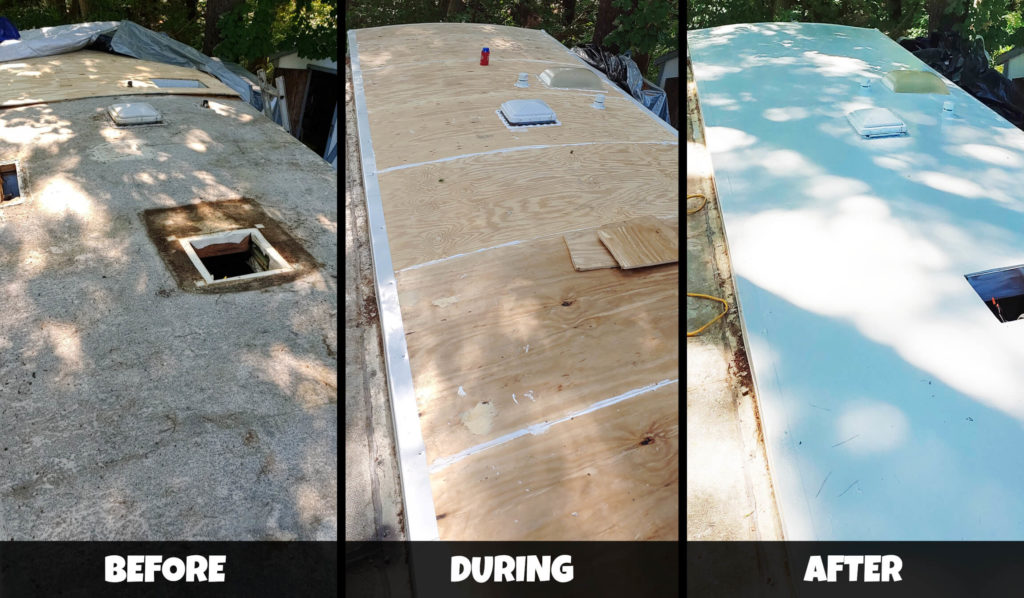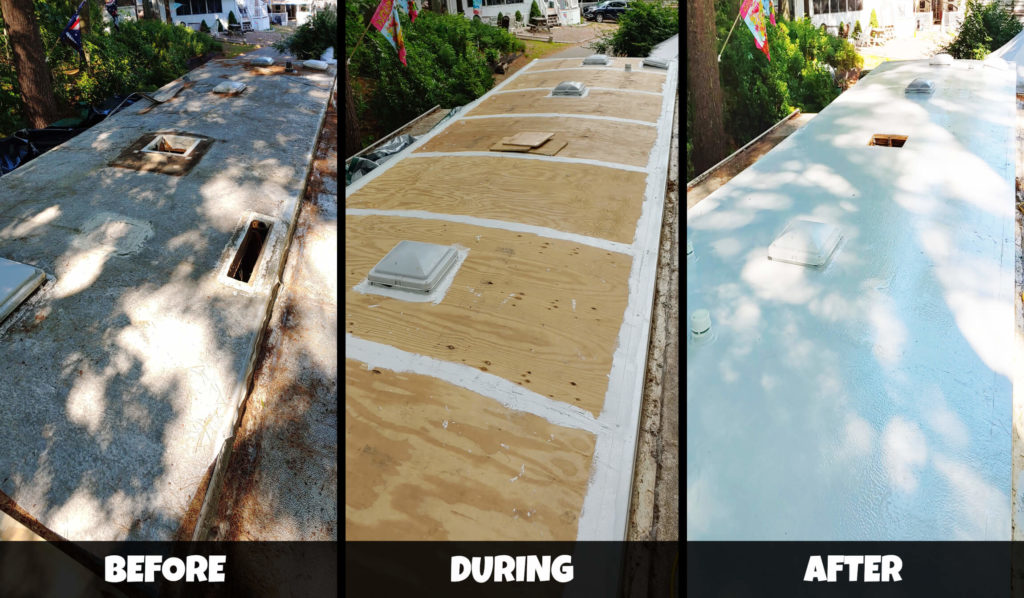 SLIDE THE MIDDLE BAR LEFT & RIGHT TO SEE THE TRANSFORMATION
CAROLINAS TODAY USES CRAZY SEAL DOUBLE COAT SYSTEM TO SEAL CARGO TRAILER CONVERSION
"I applied the double coat system to my Cargo Trailer to Camper conversion (stealth camper with metal roof). I have noticed much cooler temps and can even put my hand on the roof in the middle of the day and not get burned. Crazy Seal really reflects the heat!"
OLD ROOF MADE NEW WITH CRAZY TAPE & DIRECT TO DECK SYSTEM
"New wood installed! Seams caulked with Crazy caulk and taped with your fabric tape!!! Next phase is install the Crazy Seal…
Update: Installation of 3 coat kit went well! Installed 2 coats of gray then cut in vents and skylight and sealed. Applied white coat where AC units set. Installed ac's and then added last coat of white. Turned out great! Received a couple heavy rains and no leaks!! Pretty simple install!! Thanks Crazy Seal!! Your product worked great and made some of my concerns a simple, affordable and trouble free solution! Thank you guys."
– Dallas Behrens from Ohio
REMEMBER TO SUBMIT YOUR BEFORE & AFTER PHOTOS TO QUALIFY FOR OUR 50 YEAR CRAZY SEAL WARRANTY!
If you have any videos or extra photos that you'd like to share with us, please email us directly at info@crazyseal.com.