(A LETTER FROM THE OWNERS)
BORN INTO ROOFING. INNOVATIVE IN SPIRIT!
I WAS BORN INTO THE ROOFING BUSINESS. IT'S IN MY BLOOD.
I am a 3rd generation roofer. My Grandfather (also Lee Thaxton), started Thaxton Roofers, Inc. in Northfield, Ohio back in 1946. My Uncle and Cousin still run that business today.
My father was a roofing contractor. My brother and uncles and cousins are in the business. I guess you can say that our name says all you need to know. Our name is a derivative of Thatcher or Thatch for short. Thatching literally means roofing. Here's the definition. A material, as straw, rushes, leaves, or the like, used to cover roofs. Eventually, our name evolved and became Thaxton.
With over 70 years of experience behind us, we know a thing or two about roofing.
Although I love my family, I've always leaned towards innovation and creating new paths. While I can appreciate traditional roofing, as it's been a mainstay in our family for decades, I ventured out.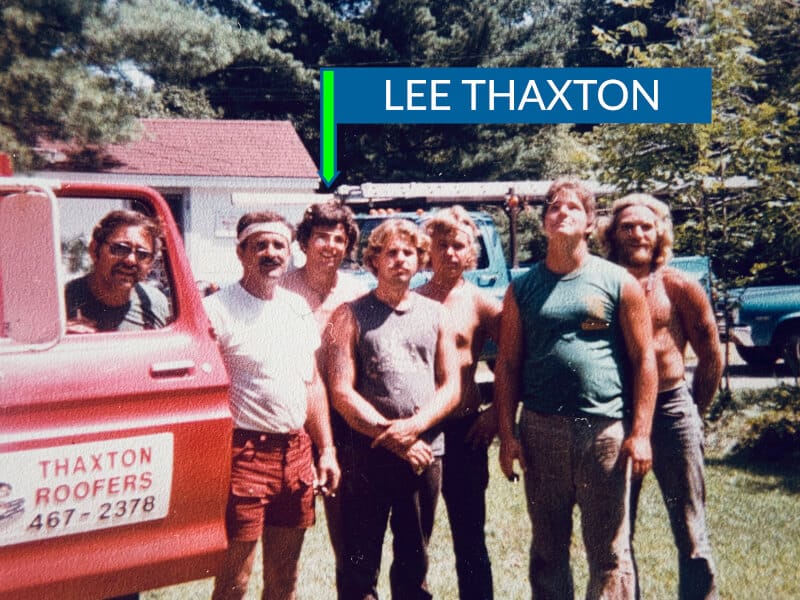 Lee Thaxton, 3rd from left, 1982
Carol and I are fellow RV'ers and travel most of the year in our motorhome and work from the road. It's a great way to see this great country, and with the ability to have internet virtually anywhere, it makes it easy to stay on top our businesses.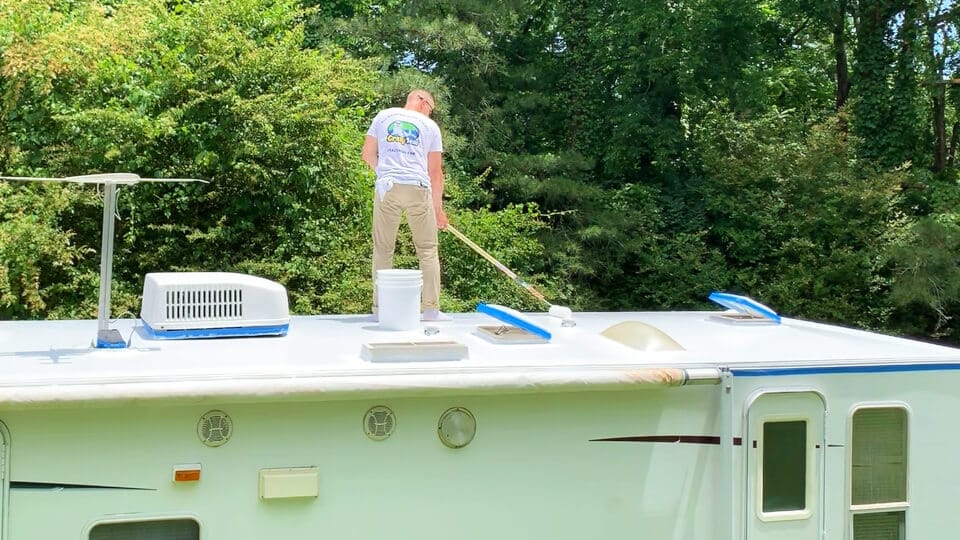 Carol and I are not new to RV roofing. We created the first nationwide, mobile service company that would offer a seamless, maintenance free roofing system. We also created the first true Lifetime Material and Labor Warranty for roofing RV's.
Even though our company has done thousands of RV roofs and dealt with thousands of people, it always troubled us that not every RV or RV'er, was a good fit for that system. We would, and still get hundreds of requests each year for DIY kits. The problem with that is just how difficult it is to work with our roofing system. It's not easily installed by the average person. It's a solvent based system, needs primer, and truly needs to be installed by trained certified techs.
We had to look at making something different, something special, that would benefit the average DIY'er. We recognize people need and want a good roofing solution. Not the inferior products you find at most retailers. We spent years working with chemical specialists, until we found and tested a formula that would stand the test of time.
THE CRAZY SEAL DIY ROOFING SOLUTION
Crazy Seal is the most advanced fluid applied roofing membrane ever developed. It's a patent pending, superior grade fiber-infused silicone. It's designed with 3 products (Crazy Caulk, Crazy Patch, and Crazy Seal), that when used together create an incredibly tough, seamless, maintenance free, roof membrane.
Crazy Seal is designed to go over multiple surfaces without the need for a primer. That means you can go over wood decking, rubber, fiberglass, and more. Crazy Seal bonds directly to just about any roof surface. Our guided, do-it-yourself roofing system comes with step by step application instructions to help you create a professional finish.
Crazy Seal offers a different, more straightforward twist on a liquid-type roof product, which makes it installable by a capable DIYer but stout enough to be covered by a 50-year product warranty.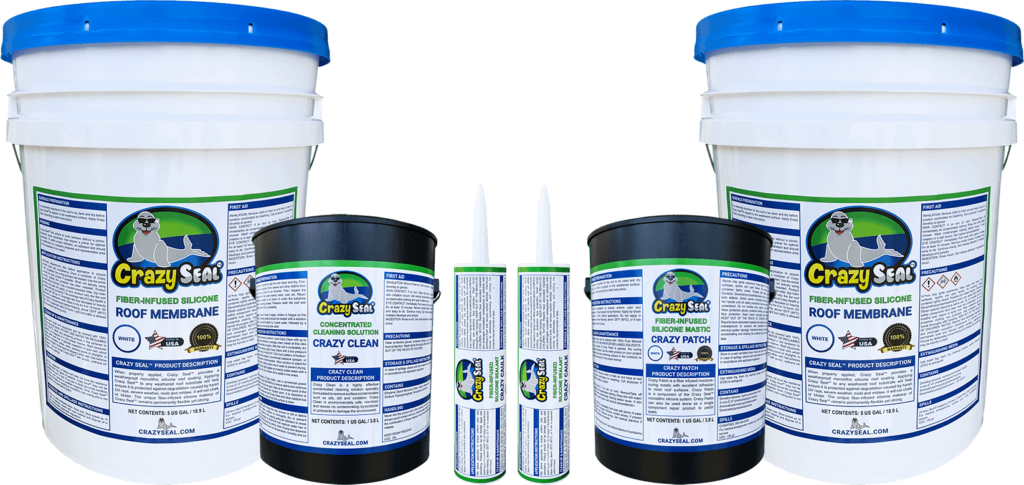 70+ YEARS OF ROOFING KNOWLEDGE
You get our 70 plus years of roofing knowledge, plus all the experience of installing thousands of RV roofs. We give you both a PDF installation guide, and a suite of installation videos to help you succeed with your project.
You won't find Crazy Seal at any stores. We manufacture and ship directly to you. We make it easy to figure out how much product you will need for your project.
We back it up with a 50 year warranty. We even make it easy to register your warranty right here on our website.
Not just for RV's – Crazy Seal was designed for small projects. We designed Crazy Seal to be good on virtually any flat surface. If you have a small project, there's pretty good chance Crazy Seal will work.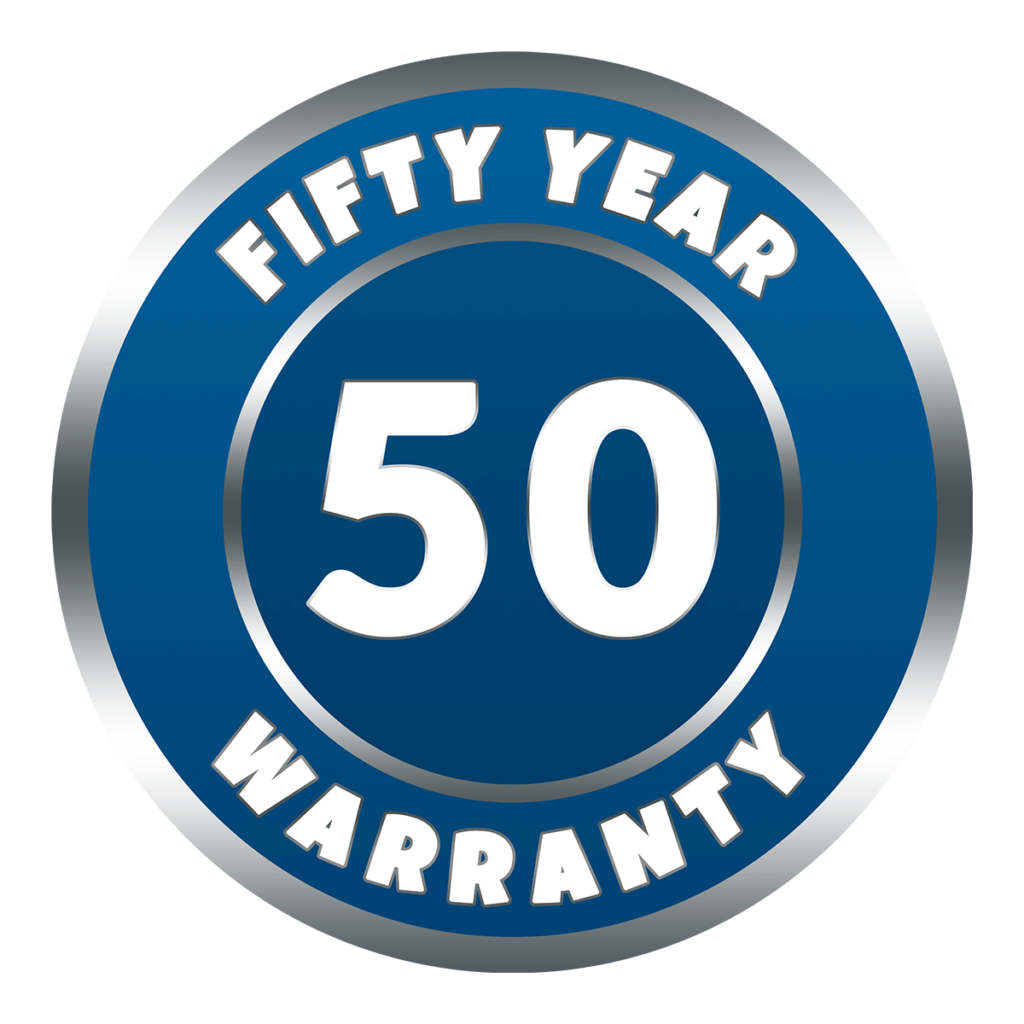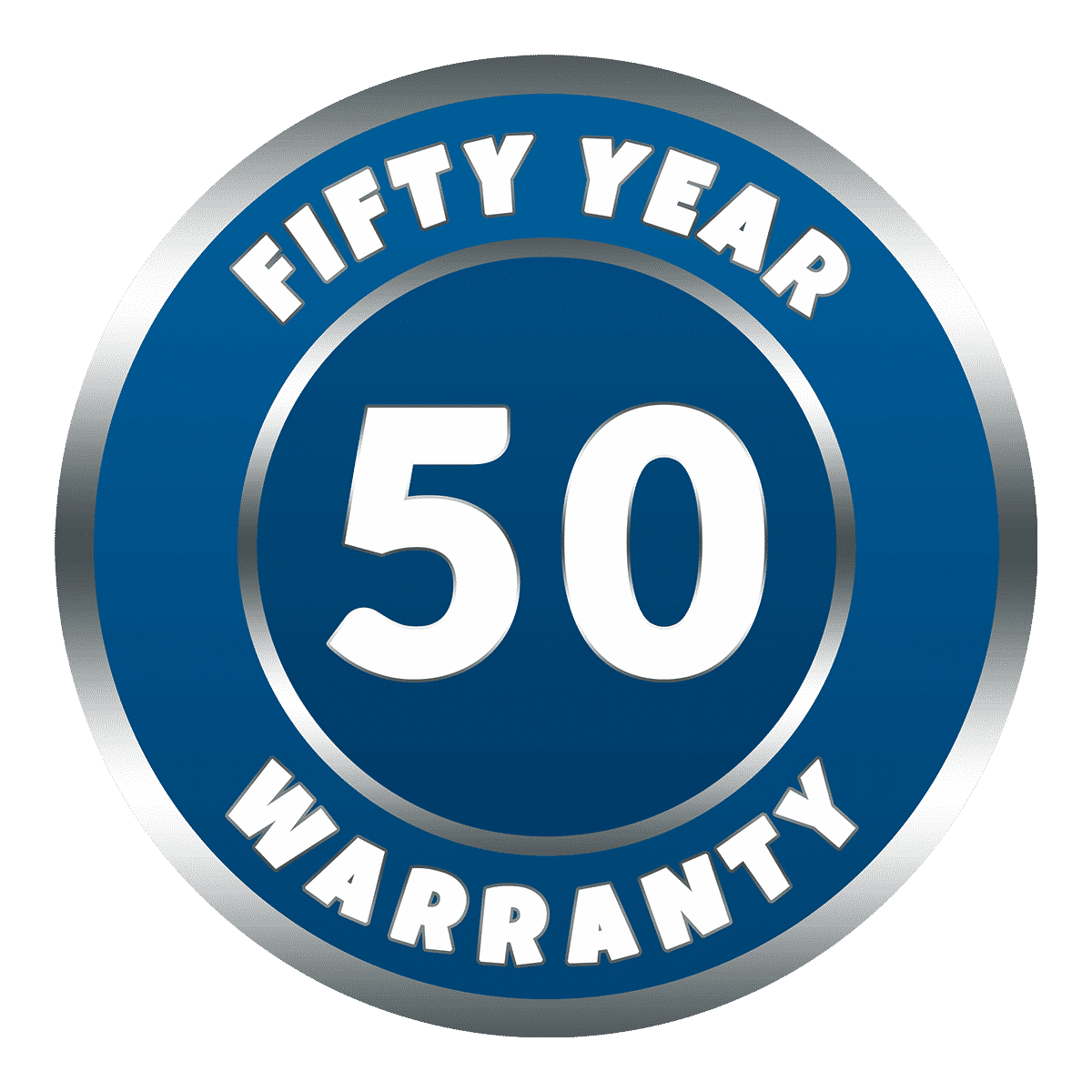 IT'S ALL ABOUT KNOWING WHO YOU ARE DEALING WITH
Crazy Seal is the most advanced DIY roof system ever developed.
You can buy with confidence, because we have a long track record in traditional roofing, own a successful RV roofing business, and genuinely care about delivering the best products available.
I wish all of you great success on your DIY roof project.
LEE THAXTON
PRESIDENT
CRAZY SEAL PRODUCTS, INC.