Crazy Seal is a revolutionary diy roofing system designed to permanently seal flat roofing applications like rv's, travel trailers, mobile homes, and more.
Our liquid-applied system is seamless, permanent, and backed by a fifty year product warranty. Crazy Seal takes the complex world of roofing and simplifies it so that it can be installed by just about anyone for a fraction of the cost of other roofing types.
The secret to Crazy Seal is its 3 part sealing system comprised of an advanced formulation of fiber-infused silicone. Continue down this page to learn more!
Crazy Seal Introduction Video (4:45)
MODERN TECH TAKING ON AN OLD CHALLENGE
Crazy Seal is an engineering marvel. Our chemical strategists and product testing teams spent years developing what may well be the strongest fluid-applied membrane ever brought to market. Now our patent pending system is here and available to help you complete your seamless roofing project, backed by a fifty year warranty.
Our patent pending system offers advanced new technology that solves an age old problem. For decades, there has been a huge gap in roofing. Most options ranged from low-grade coatings that are temporary at best to inferior roof membranes that often fail within 3-5 years. Previously, access to high quality materials was only available to large roofing contractors. We've changed that with Crazy Seal! It's time to take care of the small and mid-size project with an affordable, high-grade system that can stand the test of time. That's where Crazy Seal comes in, offering a dynamic new system for the DIY'er that's looking for a permanent solution to their roofing needs.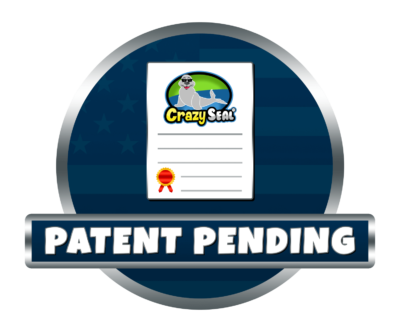 Crazy Caulk is a fiber-infused silicone, moisture-curing sealant with excellent adhesion to most surfaces. Crazy Caulk is generally used to seal seams, such as the seams along the sides of an RV or seams created where components such as gutter systems attach to the roof.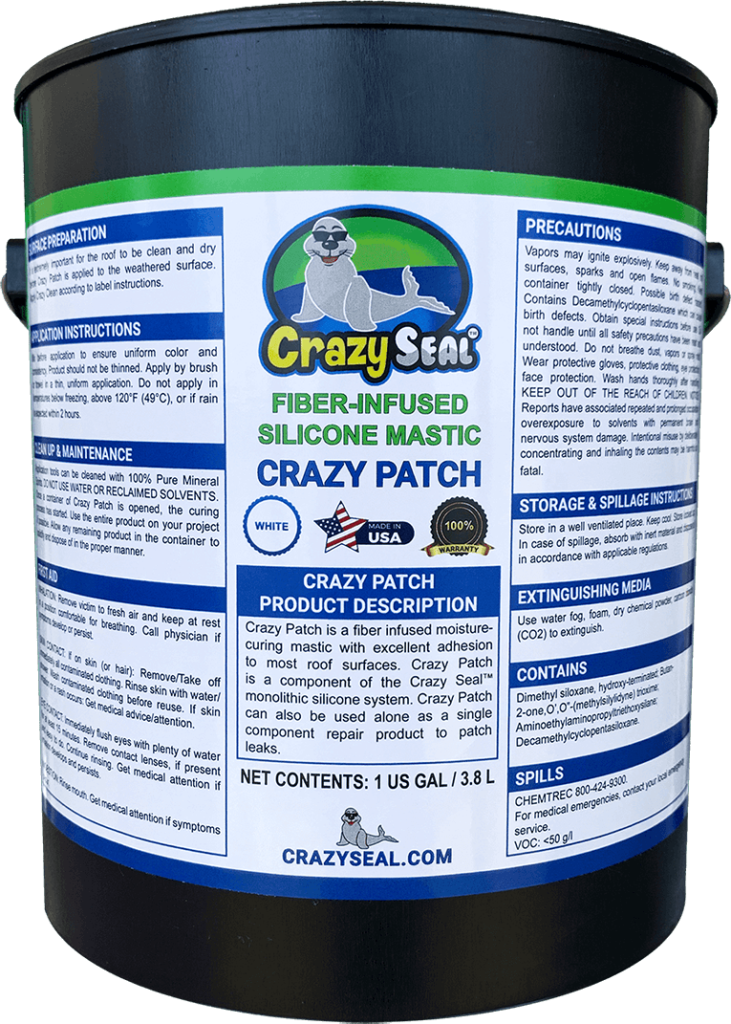 Crazy Patch is a fiber-infused silicone, moisture-curing mastic with excellent adhesion to most surfaces. Crazy Patch is generally used to seal all existing penetrations. Simply stated, wherever sealant was previously applied to cover penetrations, Crazy Patch will be used to ensure that penetrations are sealed. Crazy Patch can also be used alone as a single component repair product to patch leaks.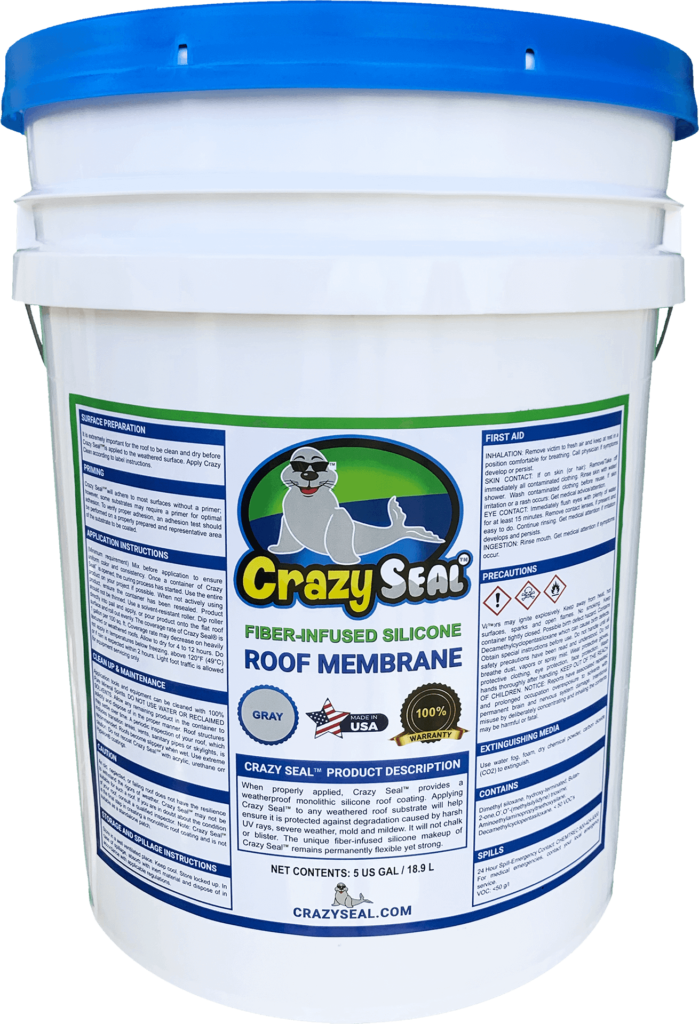 Crazy Seal is a weatherproof, fiber-infused silicone, fluid-applied membrane. Applying Crazy Seal to any weathered roof substrate will help ensure it is protected against degradation caused by harsh UV rays, severe weather, mold and mildew. It will not chalk or blister. The unique fiber-infused silicone makeup of Crazy Seal remains permanently flexible yet strong.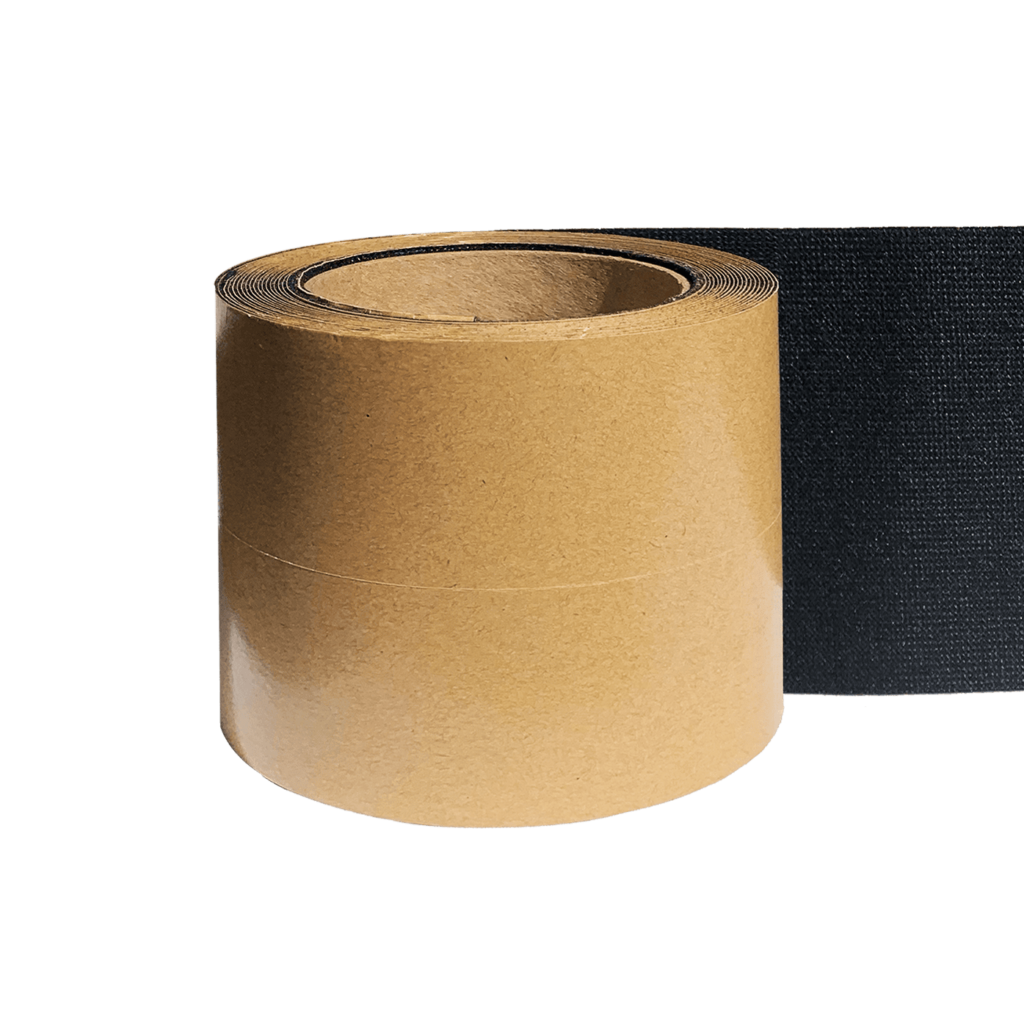 Crazy Tape is a special tape created for scenarios where repairs are required. Crazy Tape has a strong adhesive on one side and a fabric material on the other. This gives you the ability to add additional structural integrity to the seam with the adhesive, while the fabric on top is designed to allow the Crazy Seal System to adhere to it. This combination allows you many different possibilities for repair on your roof.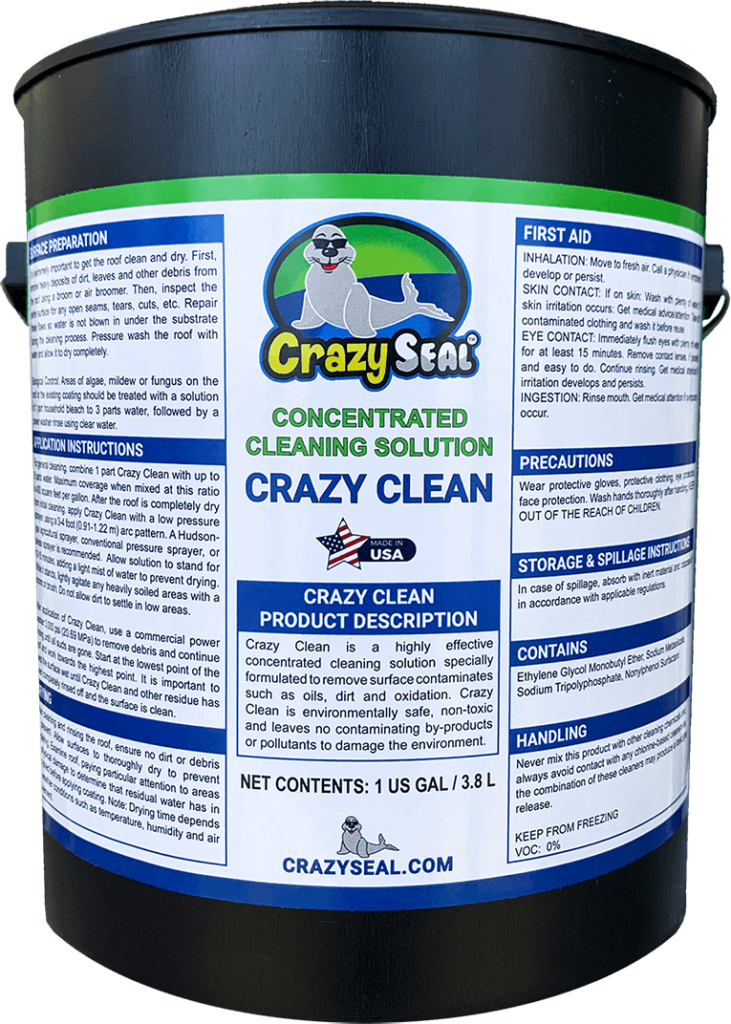 Crazy Clean is a highly effective concentrated cleaning solution specially formulated to remove surface contaminants such as oils, dirt and oxidation. Crazy Clean is environmentally safe, non-toxic and leaves no contaminating by-products or pollutants to damage the environment.
MULTIPLE COMPONENTS – ONE SEAMLESS SYSTEM
All components are derived from the same base formula and merge seamlessly together into a single membrane. The end result seals all penetrations and fortifies your roof with a seamless, custom fit membrane covering every square inch of your roof.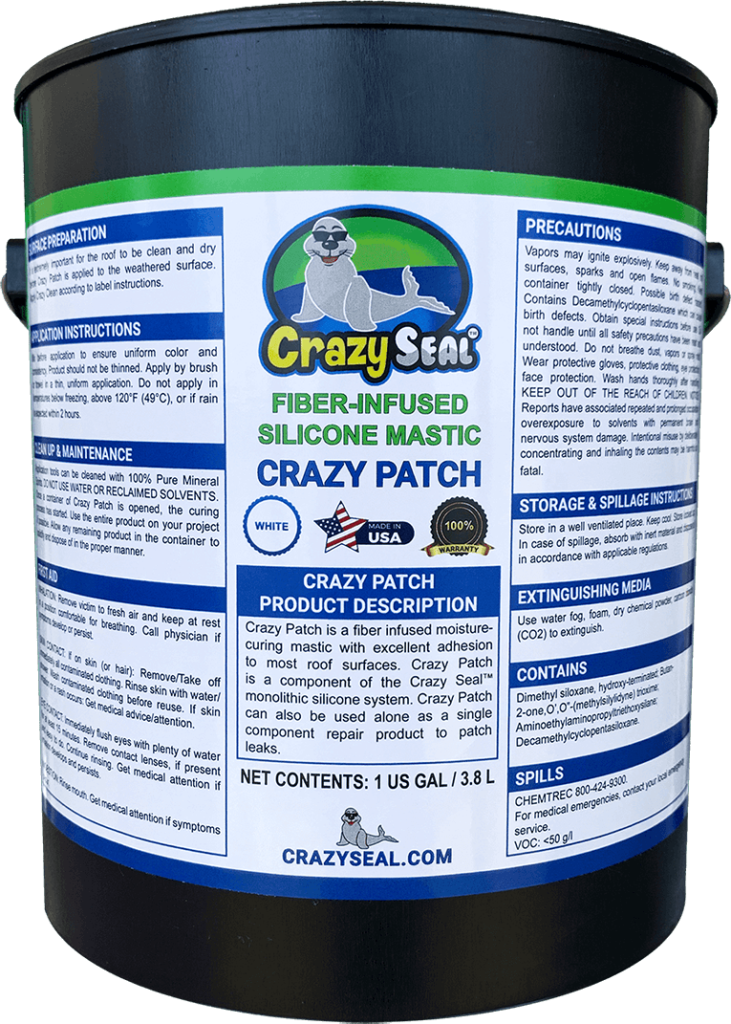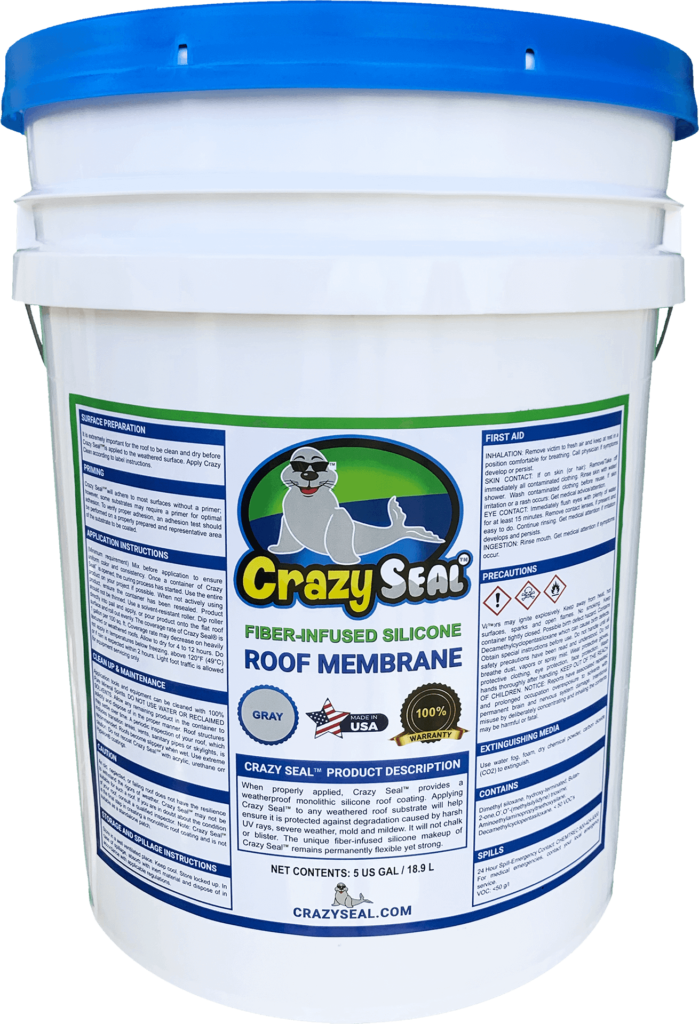 Slide the center bar back and forth to see the before and after transformations!
SIMPLE INSTALLATION EXAMPLE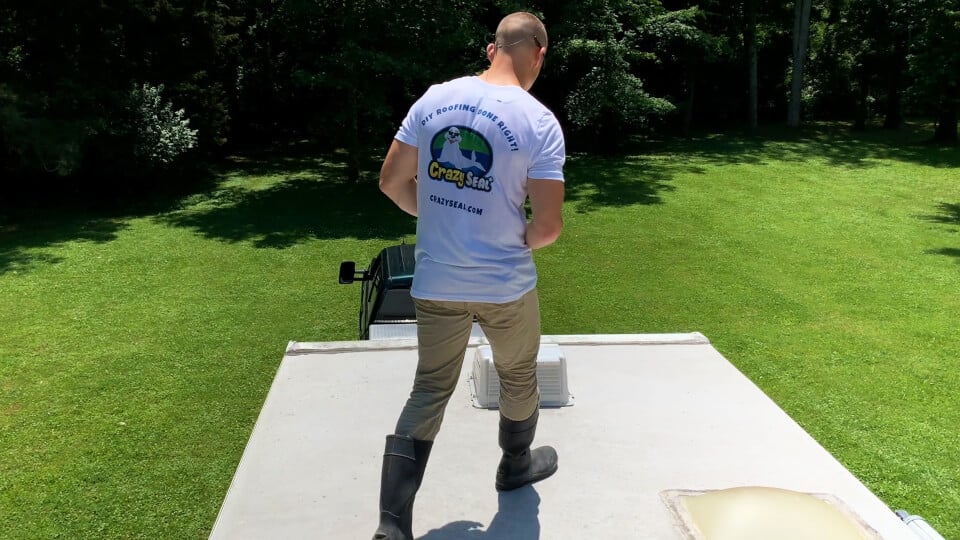 Walk the roof and identify any problem areas.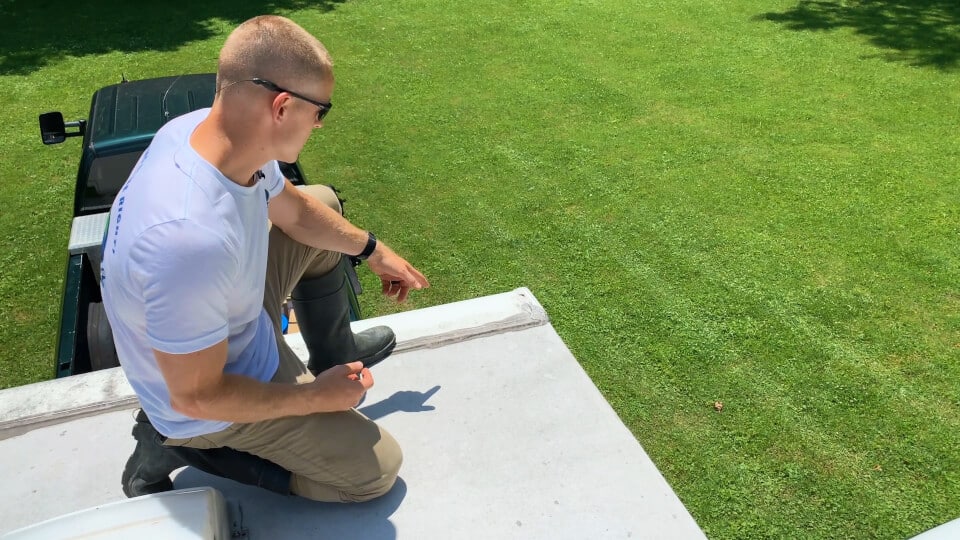 Inspect penetrations to see if any areas need fixing.
STEP 2: CLEANING & PREPARATION
STEP 3: APPLYING THE CRAZY SEAL PRODUCTS
Apply Crazy Seal Roof Membrane
VISIT OUR INSTALLATION PAGE FOR DETAILED VIDEOS & PDF'S ON APPLYING OUR DIY SYSTEM